RETNS is closed until September 2020.
During this time, please remember the importance of social distancing. We all need to stay at home as much as possible. When taking exercise, social gatherings outdoors should be of no more than four people except for people from the same household. Please remind your children of this and know where they are at all times.
 It is extremely important that we have up-to-date contact details for all parents and guardians. If you regularly receive texts and emails from school, there is no need to take any action. If, however, you have changed your phone number or email address recently, please email info@retns.ie with your updated phone number or email address as soon as possible.
 Le dea-ghuí
 Maeve
Maeve's Assembly 26th June 2020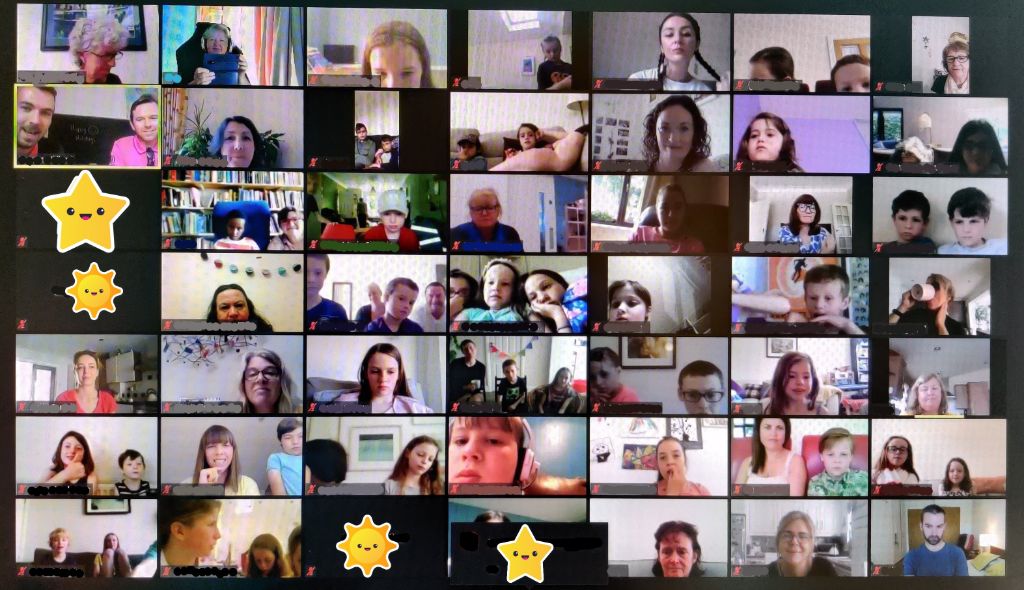 Today's assembly was live at 10.00 am. It was great to see so many of our families and staff, we had 127 participants. Well done, children, parents and staff for attending and participating. Le dea-ghuí, Maeve.
See you all after the Summer Holidays!
Dear Parents/Guardians, Children and Staff, The staff of RETNS would like to wish our school community a happy and healthy summer holiday. We hope you enjoy our messages! Le dea-ghui Maeve
Sixth Class Graduation 2020
As we reach the end of a very different school year we can still look back and remember with fondness all the incredible achievements and experiences the boys and girls of the Class of 2020 have had in RETNS. 2020 was a unique school year however we can also make comparisons with the uniqueness and individuality of every child in 6th class. I have no doubt that each child will continue to reach their potential and express themselves in all aspects of their lives as they continue on their learning journey. When you watch the Photo Story it is a story of the primary school life of the Class of 2020 and the main theme is kindness and happiness. That is crystal clear in every single photo and that is what school is all about. The togetherness over the years and friendships that they have made provide lifelong memories. This is not the end, it is just the beginning. May each and everyone of you strive for excellence, be kind and be your best self.
Best wishes
Ronan.
Different Families, Same Love Competition
Congratulations to Alice in 5th Class for winning the Senior category of the 
Different Families, Same Love Competition. Alice wrote and performed an original song which you can see on the video below. Well done Alice, we are very proud of your achievement. Anna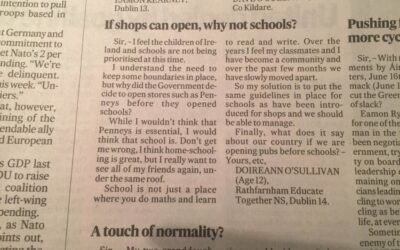 Congratulations Doireann, now officially a published journalist.
read more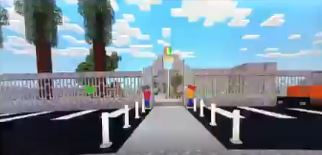 Amber, Maeve S, Anna Mae, Polly and Irie created a fab Minecraft School.
read more
Welcome to Rathfarnham Educate Together National School.
Rathfarnham Educate Together National School (RETNS) is an Educate Together National School located on Loreto Avenue, Rathfarnham, Dublin 14. Our school is equality-based, co-educational, child centred, and democratically run. In our school we aim to teach to the highest standards of education through an ethos that guarantees every child equality of esteem, regardless of their social, cultural or religious background.
January 2019

What does it mean to be in an Educate Together school?
This question was asked of 6th Class who presented at assembly what being in an Educate Together School means to each of them. Have a read of Lucy Lloyd's very succinct and enlightening post on what it means to her to be in an Educate Together School.  What it means to be in an Educate Together School