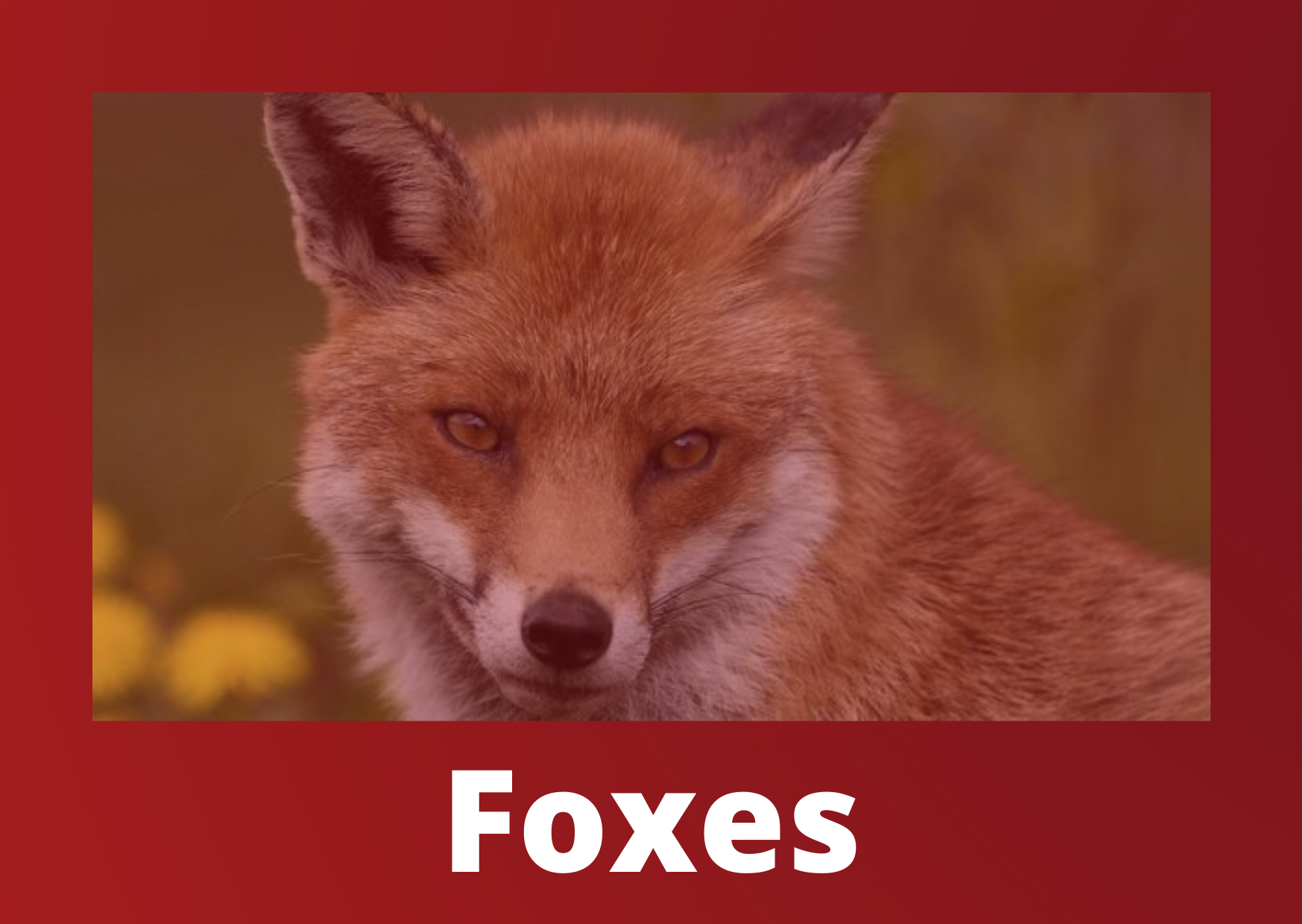 Foxes
When a class starts in Junior Infants they are given a name which stays with them all the way up from Junior Infants to 6th Class. This is the Foxes page. Each year, news from the Foxes will be added to what happened in the previous years they have been in the school. 
2nd Class 2022 - 2023
Welcome to 2nd Class. Anna.  
1st Class 2021 - 2022
Welcome to 1st Class. Aileen.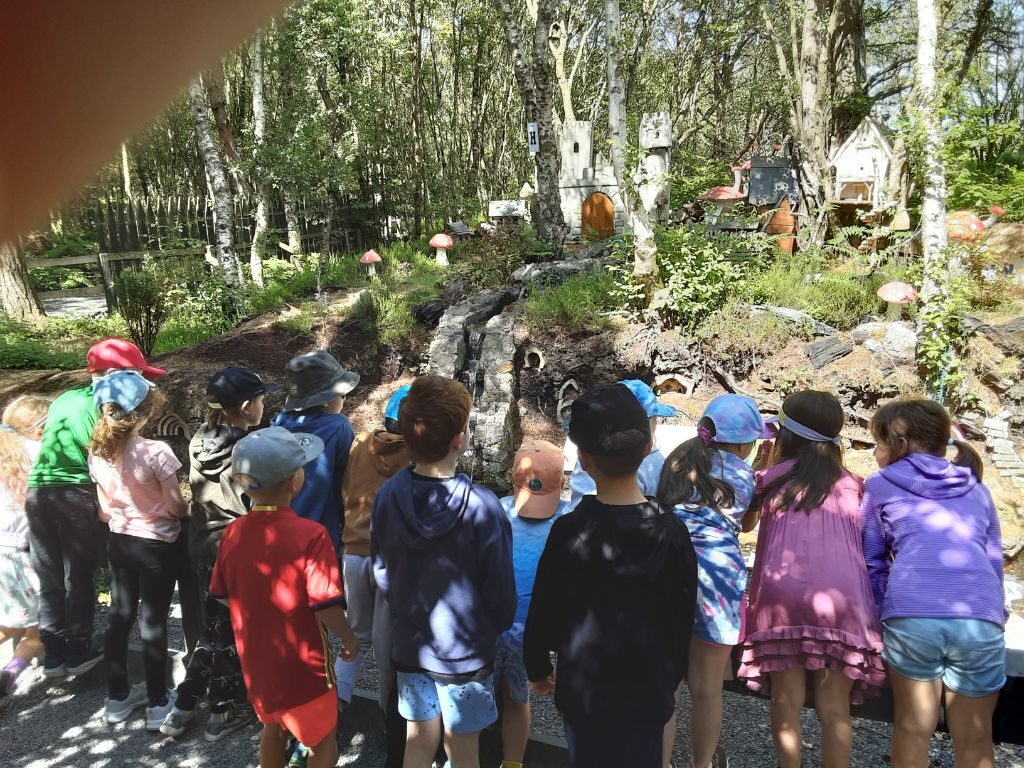 First Class have had a busy time in their third and last term.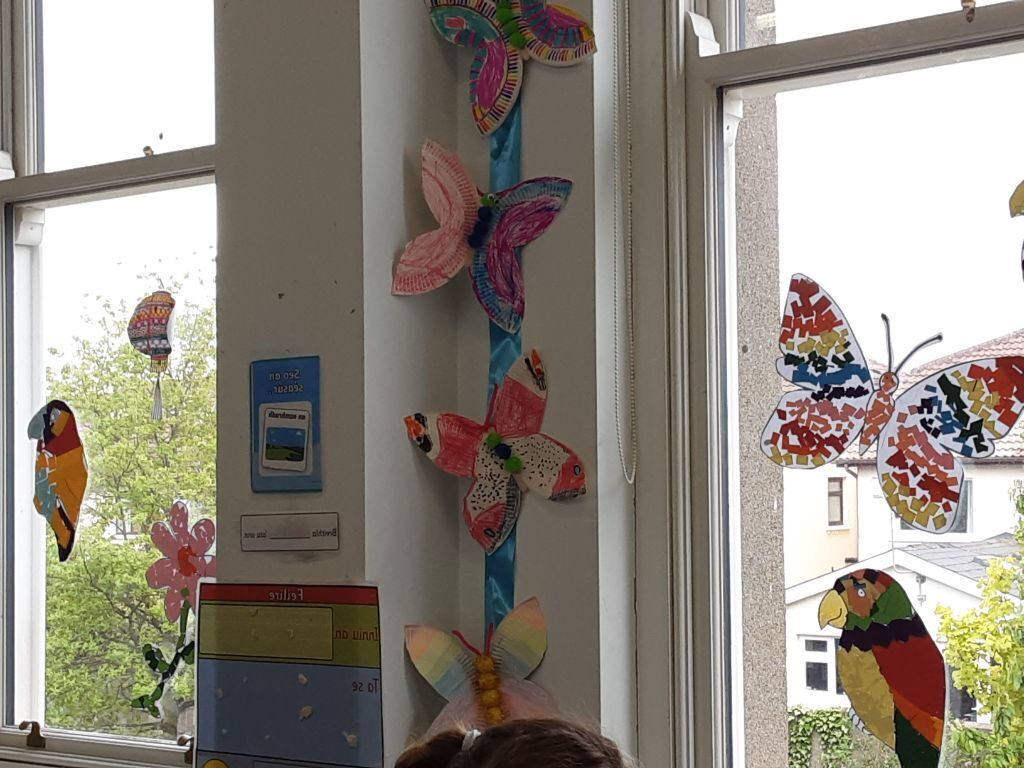 They did lots of fun art and some gardening, planting lettuce, pumpkins and strawberries.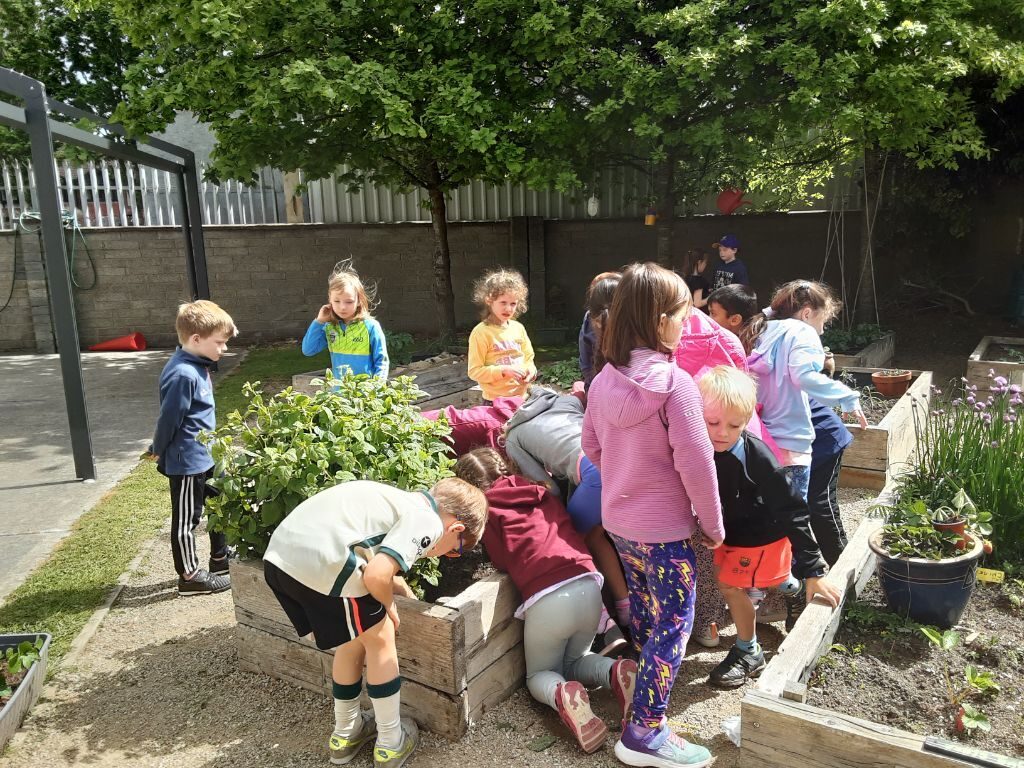 Many of the children really enjoyed doing Tag Rugby with Jonathan.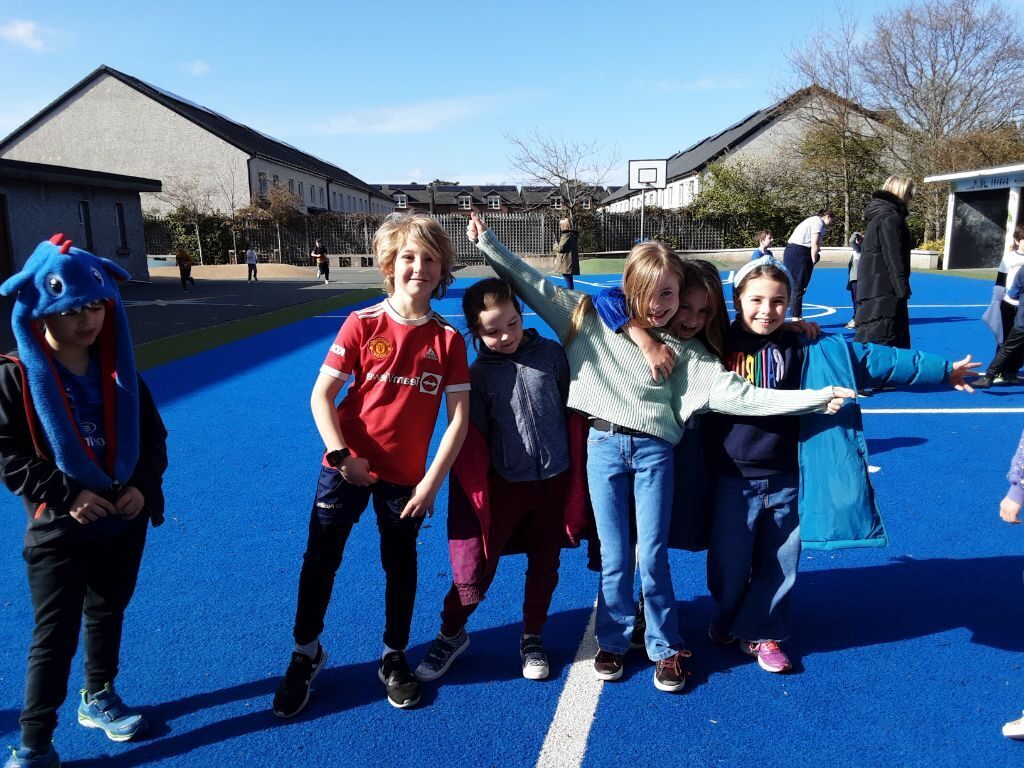 In May the class also had two really fun dance sessions with Emily, a visiting dance artist.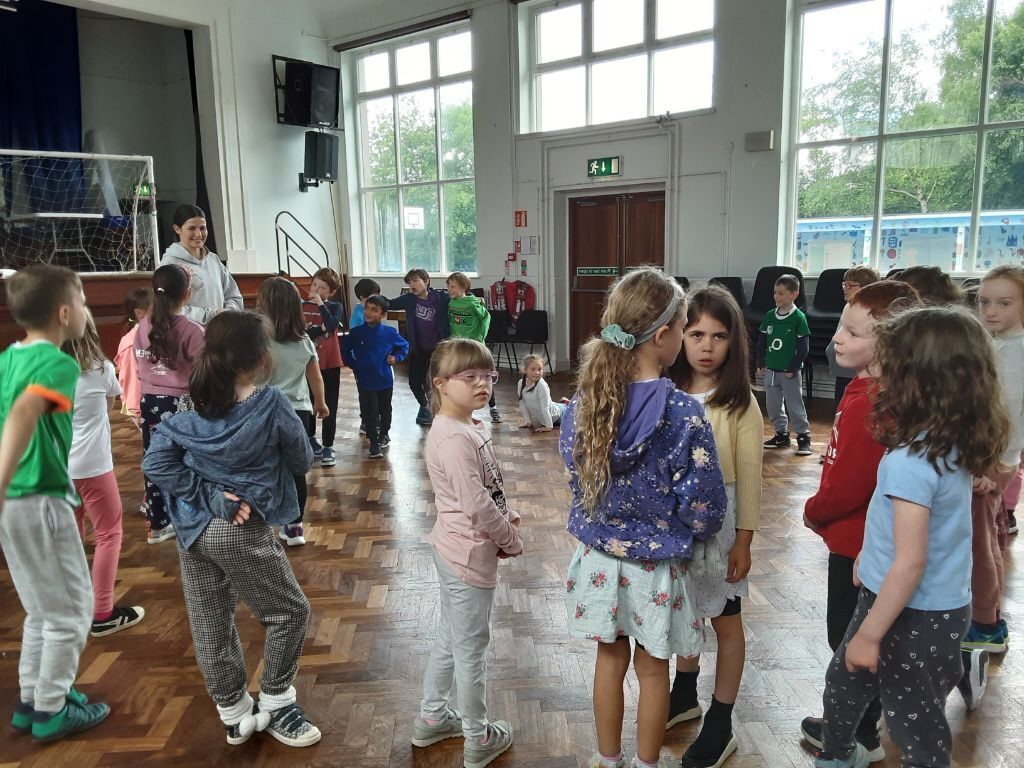 They also made their own obstacle courses in P.E.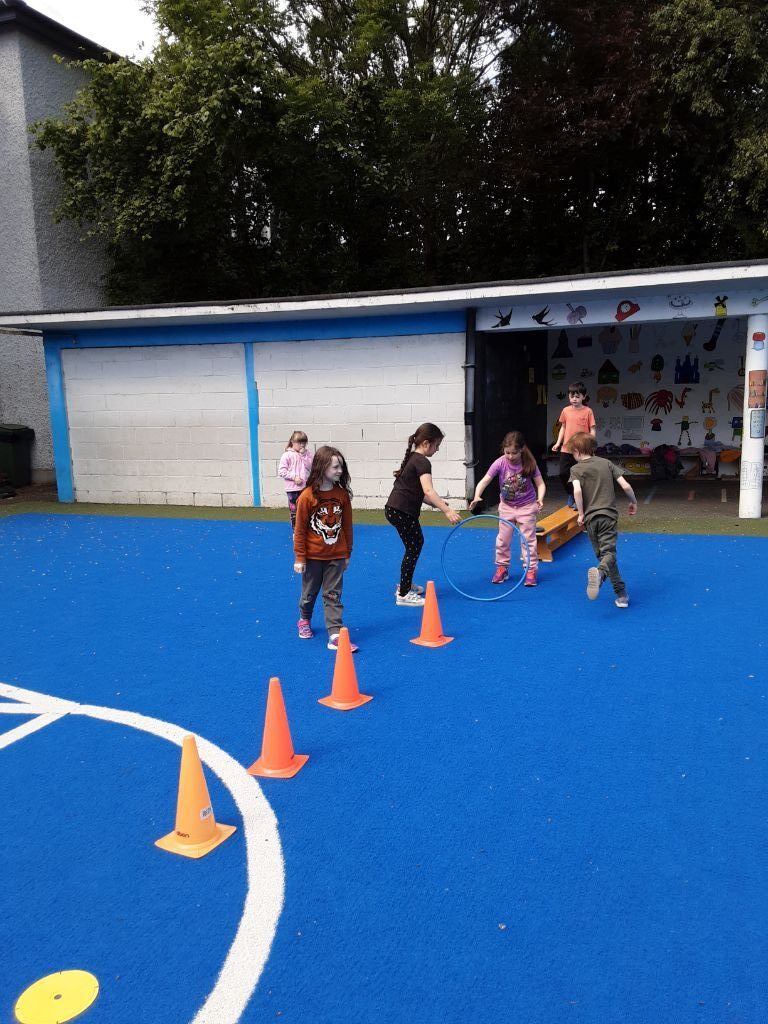 On May 30th everyone had a great day on the school's Annual Walk to St. Enda's Park.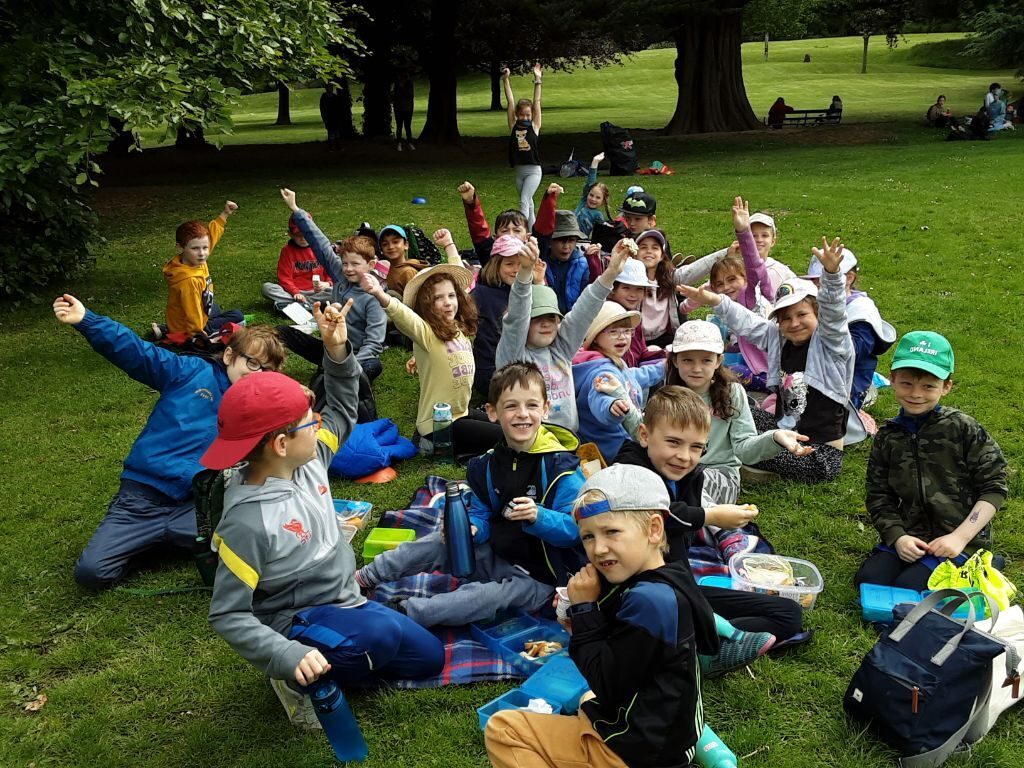 To top it all they had a wonderful trip to Lullymore Heritage and Discovery Park on June 17.  The sun shone, the animals were very cute, interesting history was explored in the old Irish cottage and replica crannog and our guide Maeve brought us on a beautiful walk through a dappled forest to see a fairy village!  There was even a train ride!  See Gallery of pictures below. All in all it has been a fun-filled term, with the Talent Show and Sports Day yet to come.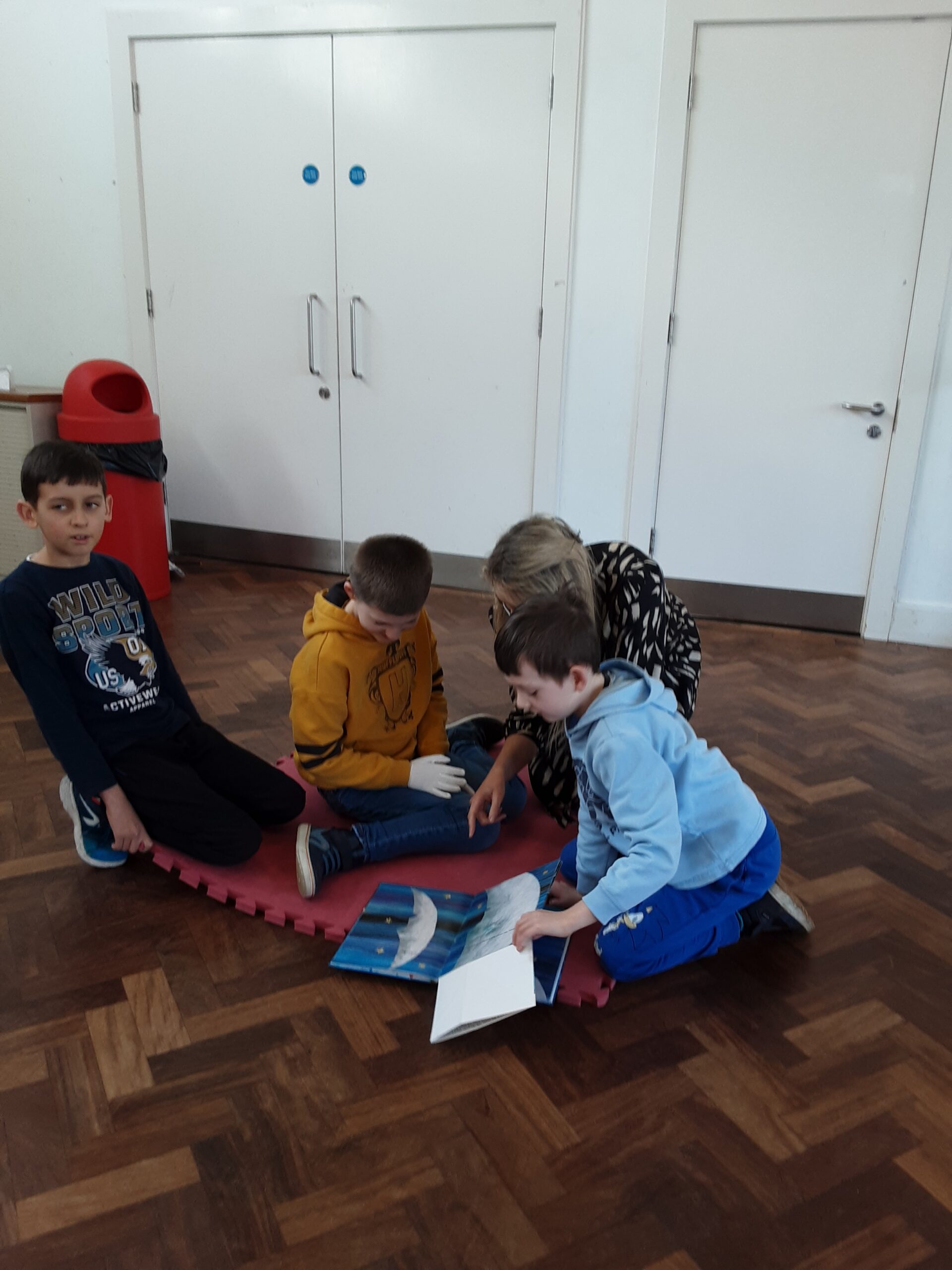 Buddy Reading
As Covid restrictions began to lift recently a highlight for First Class was being able to do Buddy Reading with their older school-mates.  A lovely time was had by both Fifth Class and First Class alike as they shared their joy in stories and showing off their reading abilities. Aileen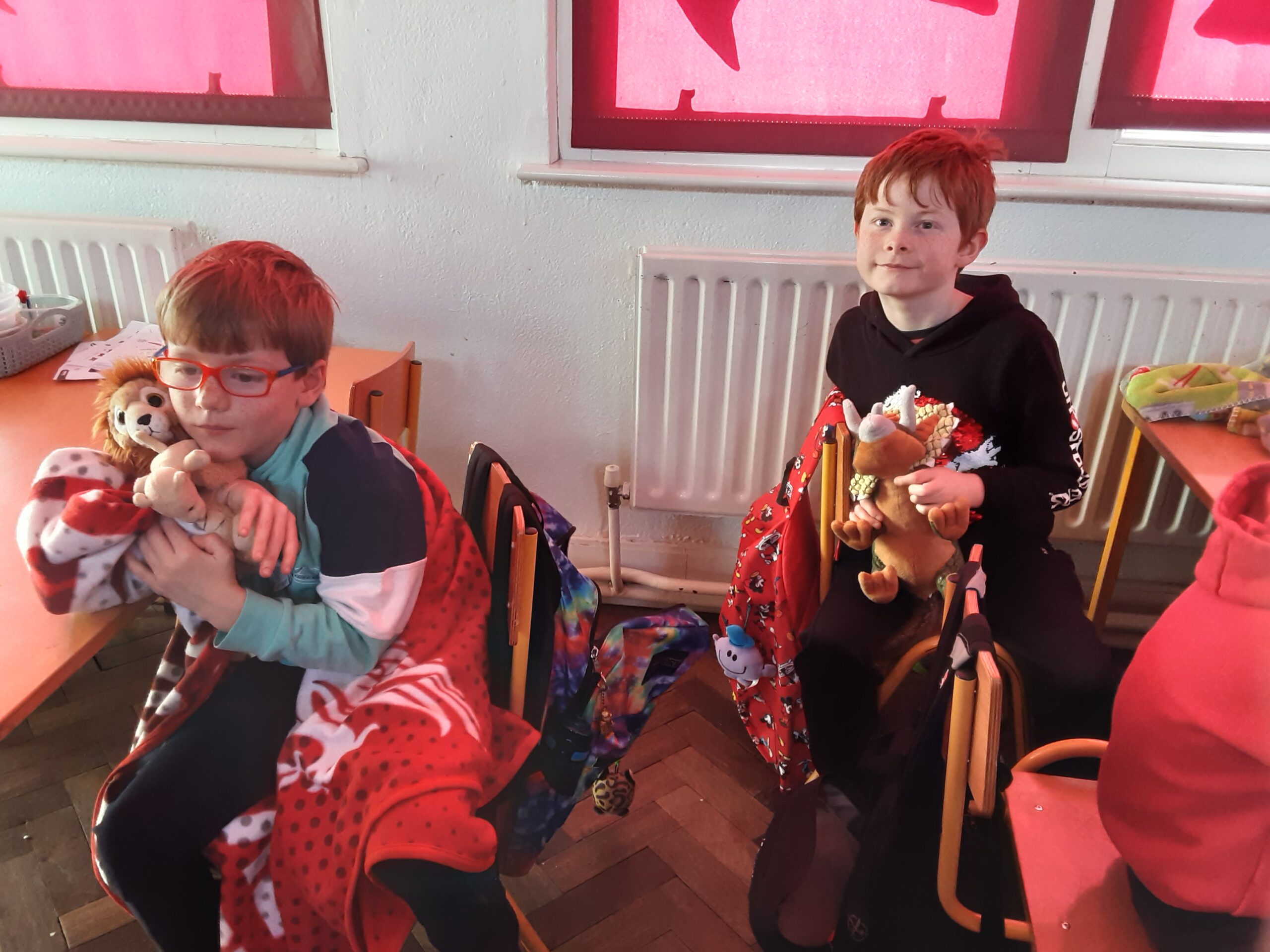 Cosy Day
Another particularly fun day in the last while was Cosy Day.  No one in First Class missed the opportunity to bring in a teddy or a blanket or a cosy dressing gown.  The pictures tell their own story!  It was a very cosy day indeed!  Aileen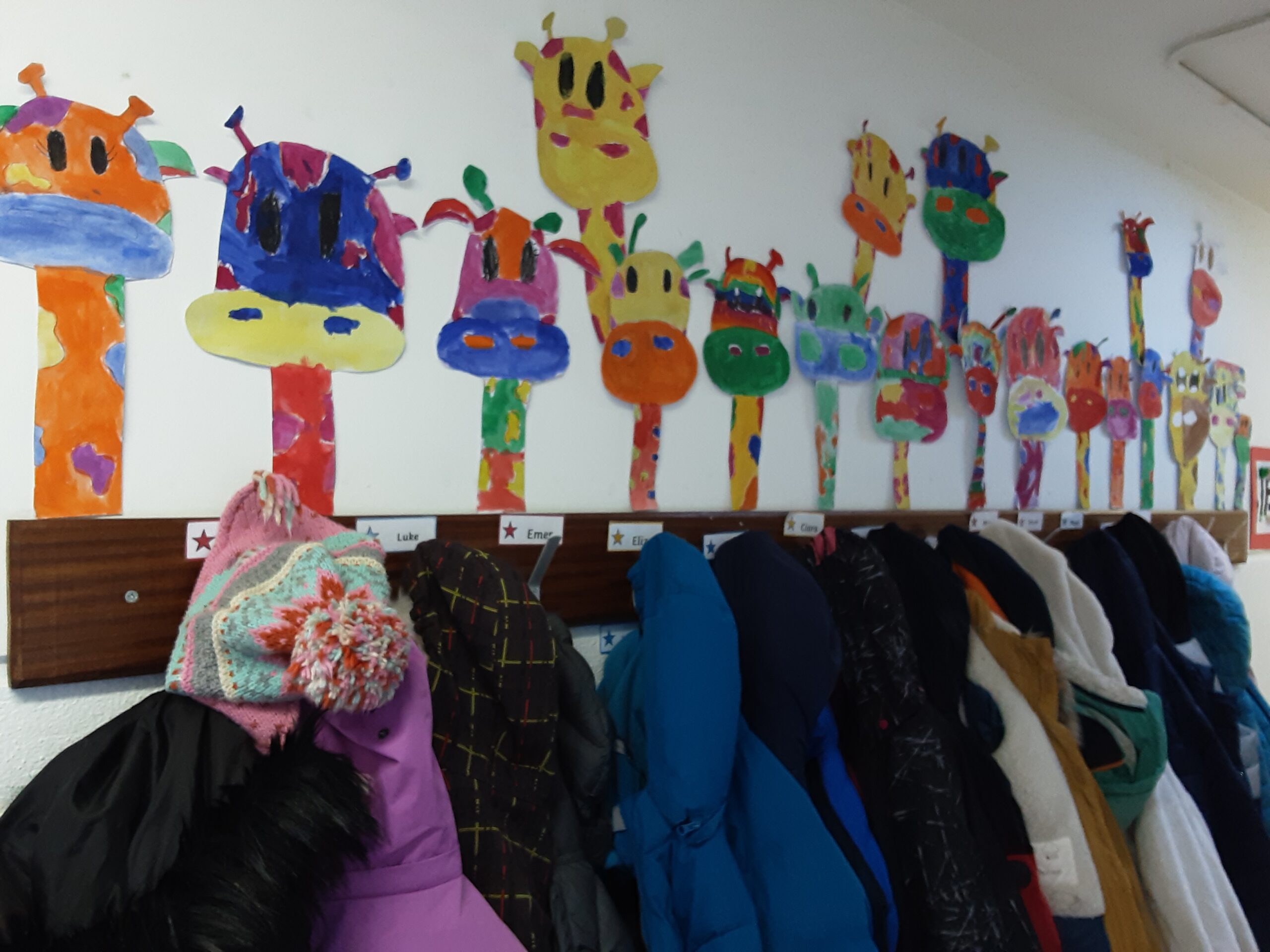 Art/Seachtain na Gaeilge/Sequencing
First Class also continue to explore their creativity through producing wonderful works of art.  Just some of their work is on view here – their wonderful spring daffodils, their fun giraffes, their sunsets utilising warm and cold colours and their 3D balloons.  They are a very creative bunch!! Aileen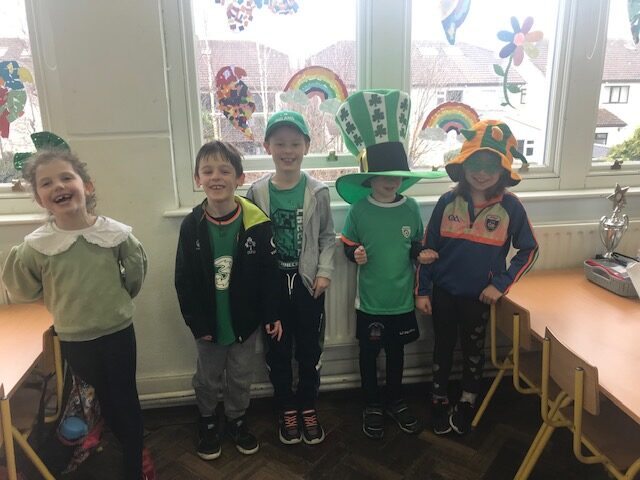 Bhain Rang a hAon an-taitneamh as an Lá Glas.  Rinne siad iarracht iontach leis na h-éadaí glasa.  Bhí an-cuid Gaeilge á labhairt acu freisin.  Maith sibh Rang a hAon!!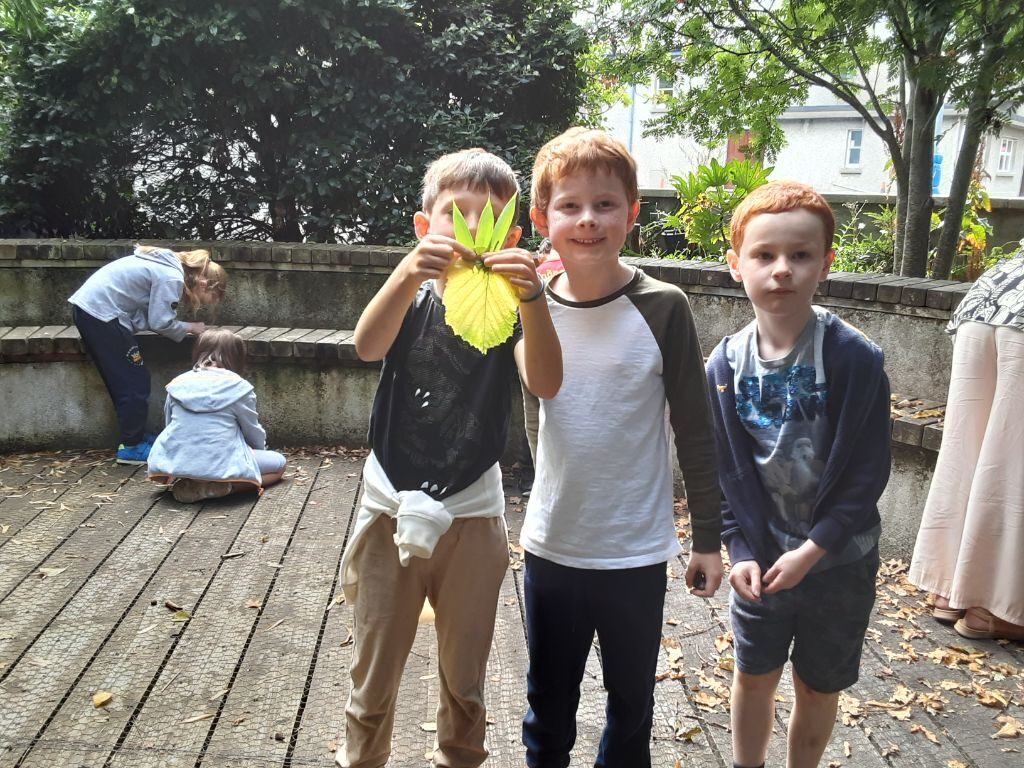 1st Class
Since returning to school in September the children have settled very well into First Class.  Morning activities between 8.45 and 9.10 are one highlight, with the children happily engaged in a range of construction, pattern making and other projects.  Art is another favourite.  Creations so far include emoji art pictures, cat drawings inspired by the work of Laura Burch, print art and, as shown in the photos here, nature art inspired by the work of Andy Goldsworthy.
Senior Infants 2020 - 2021
Welcome to Senior Infants Class. Niamh.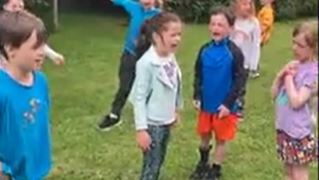 Senior Infants have been working on a music project for the last couple of weeks. We are very excited to share it with you all and we hope you enjoy it! Niamh
Welcome to Senior Infants. Here we will post some of the am
azing work being done by our wonderful Senior Infants
!     
Niamh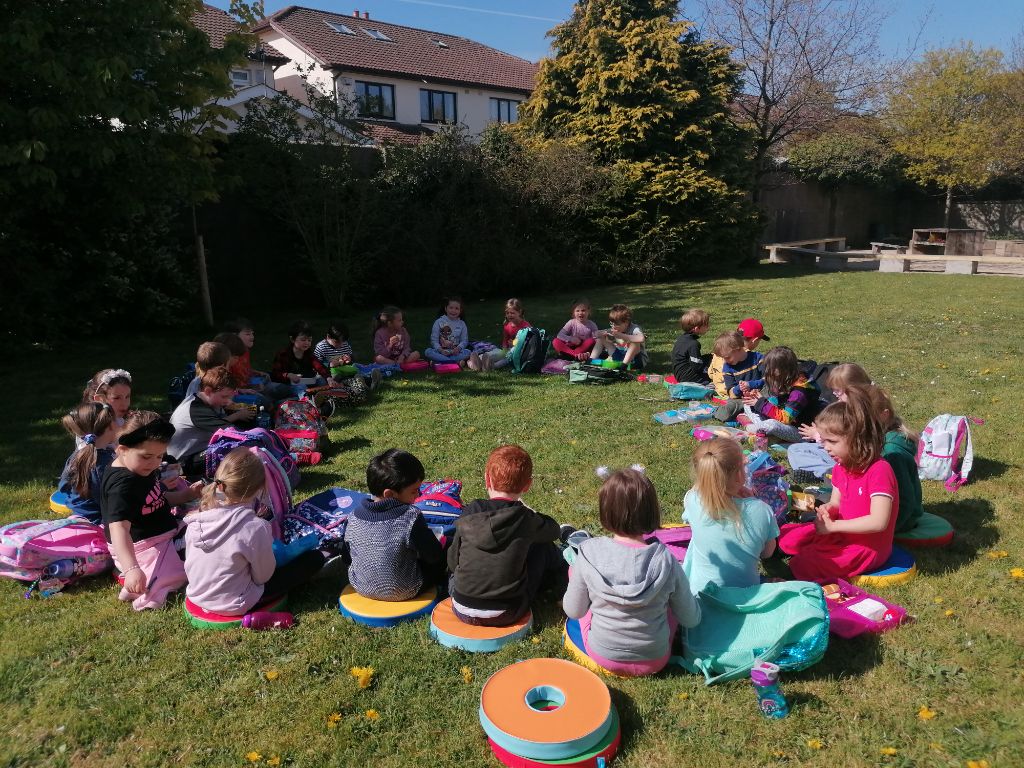 Senior Infants learn outside
Senior Infants have been enjoying the warmer weather this month. We are lucky to have our cool cushions to use for lunch outside in the sun!
Niamh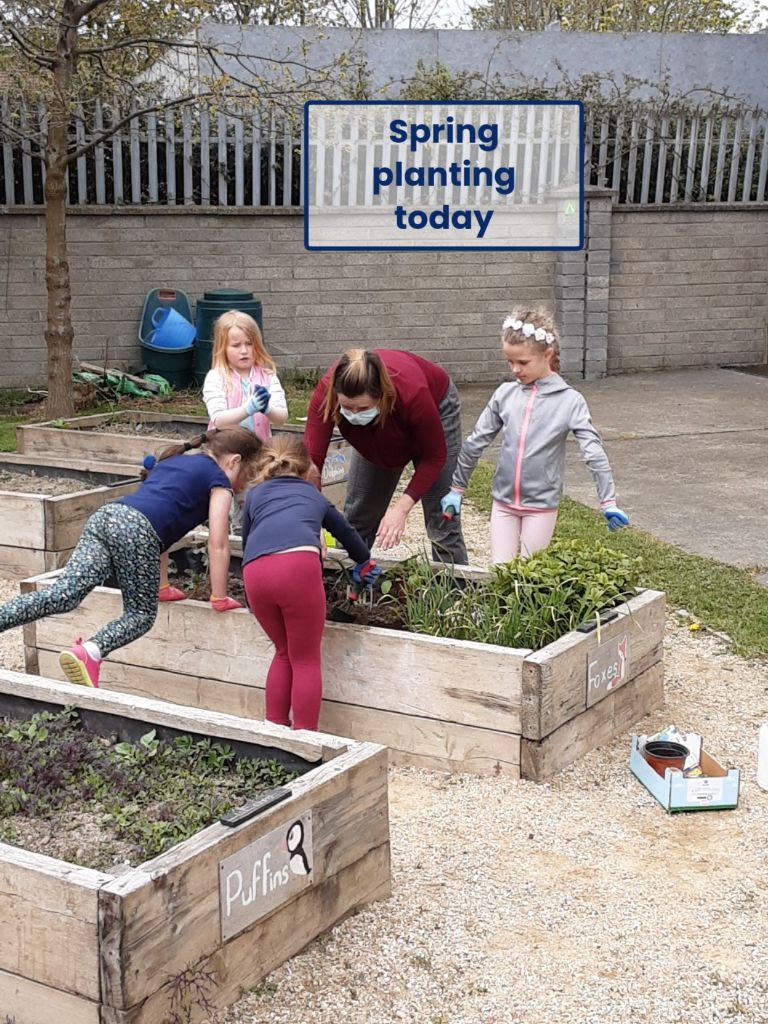 Aistear: The Garden Centre
Our theme in Aistear this month was the Garden Centre. We have been learning all about plants and flowers. We read the story 'The Tiny Seed', planted radish, beetroot and spinach with Laura and did a runner bean experiment with Carol. Well done to all the boys and girls in Senior Infants for their great work this month!