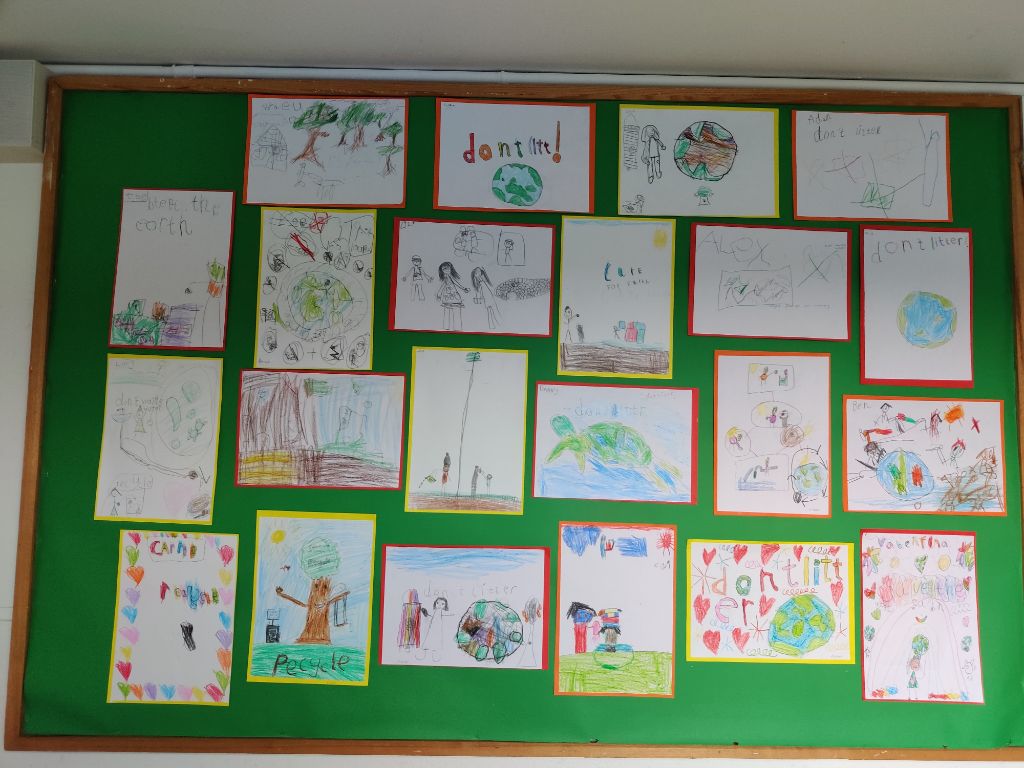 RETNS is an Educate Together School, part of the Educate Together umbrella group.  It is a state funded school and follows the four principles of the ET ethos:
•    Co-educational – boys and girls have equal opportunities.
•    Democratic – all the school community have a voice in the running of the school.
•    Child-centred – all our policies and procedures have the child at the centre of decisions.
•    Equality Based – all children, whatever their background, are treated equally.
History
The School was founded in 1990 when it opened its doors as South City School Project with 39 children enrolled in six classes. The first principal was Paddie Murphy. The first premises of the school was in St. Mary's, Church of Ireland School in Crumlin on a shared campus. The building was burnt in March 1993 and the school was rehoused in Rathfarnham in September of that year. The school changed its name to Rathfarnham Educate Together (RETNS) in 2001. The school had a major refurbishment in 2008 when we acquired 4 new classrooms. Paddy retired in 2009 and Sinead Watson took over as Principal. In 2013 Mary Carron became Principal, Mary oversaw our 3o year celebration as a school and was instrumental in the school achieving a Digital School of Distinction award. In 2018 Maeve McCarthy became Principal and was at the helm while we sucessfully worked as a school through the Covid pandemic. 
\
Ethos
Ethos Statement
Our school operates under the patronage of Educate Together. As an Educate Together school we uphold the mission and values of Educate Together as stated on the Educate Together website, www.educatetogether.ie
In Educate Together schools, every child will learn in an inclusive, democratic, co-educational setting that is committed to enabling and supporting each child to achieve their full potential while at the same time preparing them to become caring and active members of a culturally diverse society.
As an organisation we embrace teaching as an opportunity to inspire and empower. Our aims are to enhance learning as a transformative experience; to promote and understand and sharpen critical thinking skills; to encourage children to take responsibility for their own learning; to cultivate learning partnerships with children while nurturing and inspiring their courage to grow; to foster curiosity; to provide opportunities for developing relationships and clarifying values; to uplift children's spirit and ignite their action; to open hearts and minds; to encourage children to see through a different lens academically, emotionally, physically and socially.
In RETNS we place the child at the centre of the educational process, 'respecting and celebrating the different and unique identities of all'. We aim to provide the children with the skills, knowledge, attitudes and values that will enable them to make informed moral decisions, preparing them to become responsible citizens and caring members of society.
Through the Learn Together Ethical Programme the four principles are adhered to and promoted in the school community. The school aims to reflect and affirm diversity so that each member of the community feels equally valued, respected, accepted and supported. The philosophy recognises the unique nature of each child and ensures that no child is an outsider.
The school atmosphere is of utmost importance in developing a secure and safe environment. Respectful relationships and the use of inclusive language and practises ensure a positive teaching and learning environment. We acknowledge the multi-denominational nature of Educate Together philosophy through appreciating the individual and shared beliefs of children and their families. We encourage growth in self-knowledge, activate equality through positive action and empower children to take positive, active and dynamic roles in the stewardship of ethics and the environment. We recognise parents and guardians as the primary educators of their children. Together we aim to guide the children towards informed opinions, foster self-esteem and encourage strategies for peaceful resolution of conflict. The moral and spiritual aspect of the Learn Together Programme guides children to reflect and develop awareness of themselves and others. A sense of fairness, justice, honesty and empathy is encouraged at all times.
We are child centred
The educational and developmental needs of the children of the school are our most important consideration. Each child's needs, abilities and individuality are recognised and respected in a caring and relaxed learning environment that is rooted in equality and respect.
For example, we:
Ensure all staff and children are addressed by their first names.
Use a wide range of learning techniques to suit the different learning styles of children.
Provide for the special educational needs of children.
Actively listen to children to find out about their experiences and their concerns in an effort to detect and resolve problems as early as possible.
Encourage children to 'tell' teachers about any bullying incidents.
Positively and consistently reinforce good behaviour, effort and achievement for both individuals and groups (for example: school 'achievements book', 'golden time', reward charts, stamps, certificates, token gifts, etc., but no sweets).
Intervene early and appropriately when student behaviour does not meet expected standards (for example: reminding, reasoning, warning, 'putting it right', temporary withdrawal from activity/classroom, referral to Principal) but never use isolating/humiliating sanctions or physical force unless restraint is required for safety reasons.
We are co-educational
Our school welcomes both girls and boys. Whilst we acknowledge that there are gender differences, we encourage all children to explore their full range of abilities and opportunities in a balanced environment, which does not favour one gender over the other or promote gender stereotypes. We are also dedicated to fostering respect, understanding and friendship between girls and boys.
For example, we:
Always teach children of both genders together.
Value the ability and contribution of girls and boys.
Make sure all children participate in a full range of classroom tasks.
We are equality-based
All children have equal right of access to the school. Children of all social, cultural and religious backgrounds are equally respected.
For example, we:
Have a first come first served enrolment policy.
Follow an ethical education programme entitled Learn Together, instead of religious instruction.
Maintain a month-by-month festival wall identifying important religious and non-religious events without prioritising any one-belief system.
We have a weekly assembly.
Teach children about inclusion, diversity and discrimination to encourage understanding, tolerance and acceptance of the customs observed by different individuals and communities.
Encourage parents from various backgrounds to share their national, cultural and religious heritage with the children. Staff do not discuss their own beliefs with children.
We are democratically run
We accept that parents are the primary educators of their children and in turn ask that they positively affirm the professional role of the teaching staff. Parents and guardians actively participate in the daily life of the school. We also teach the children about issues such as democracy, power sharing and freedom of speech.
For example, we:
Teach children to express their views sensitively and respectfully and to value their right and the rights of others to do so.
Have a Student Council that allows students a voice and an opportunity for their ideas to be formally represented.
Organise curriculum meetings for parents of each class at the start of each year.
Value and encourage the contribution of parents to the education of their children.
We have a 'Your Children, Your School, Your Time' project that encourages parents to volunteer their time for the school.