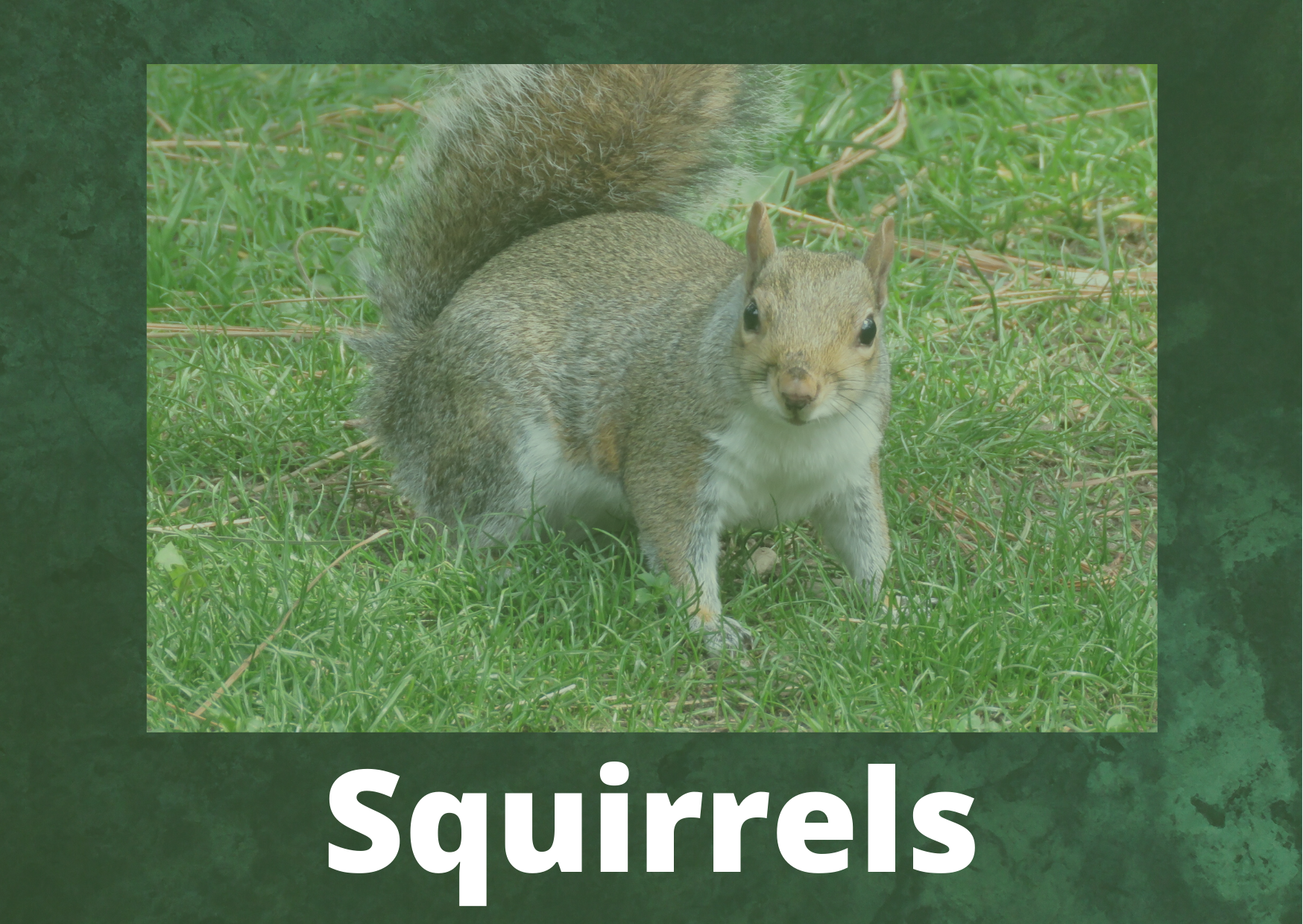 Squirrels
When a class starts in Junior Infants they are given a name which stays with them all the way up from Junior Infants to 6th Class. 
This is the Squirrels page. Each year, news from the Squirrels will be added to what happened in the previous years they have been in the school. 
1st Class
Work from 1st Class will be in this section. Grainne
Senior Infants
Work from Senior Infants will be in this section. Niamh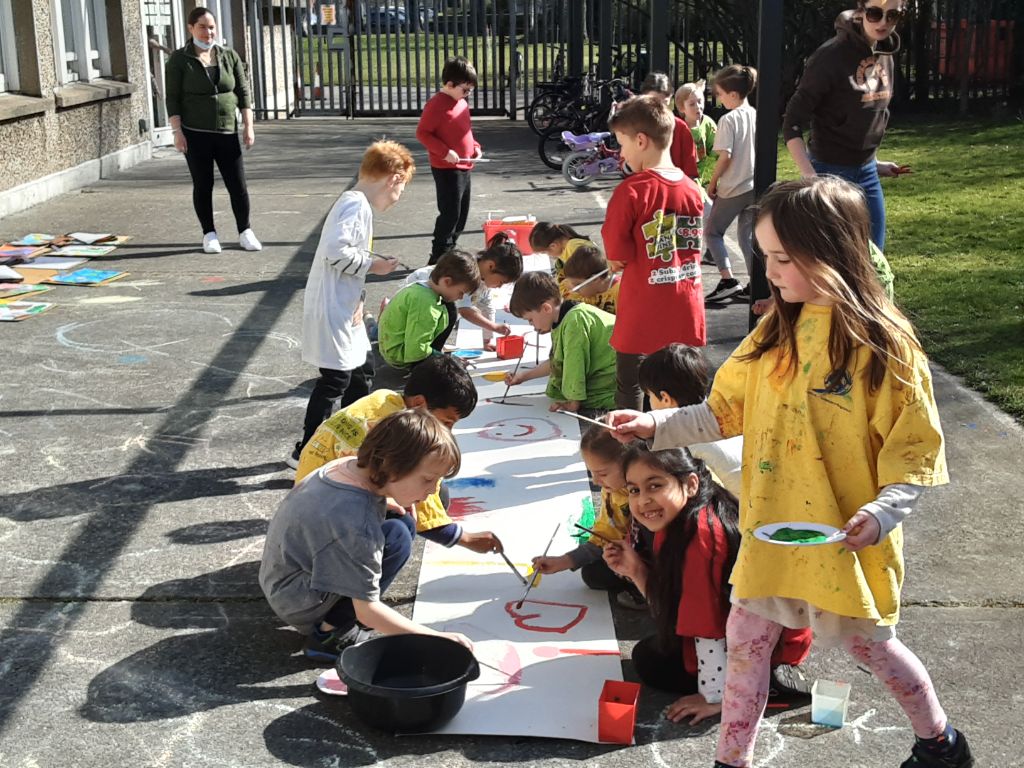 Senior Infants have been making the most of the lovely weather this spring. The children have been learning about the Garden Centre in Aistear and we planted pea, radish and salad leaves seeds.
We went on a spring nature hunt with Anne and learnt about the silver birch tree. We observed, drew and painted plants and flowers in the side garden with Patricia.
The children had great fun painting a group spring collage!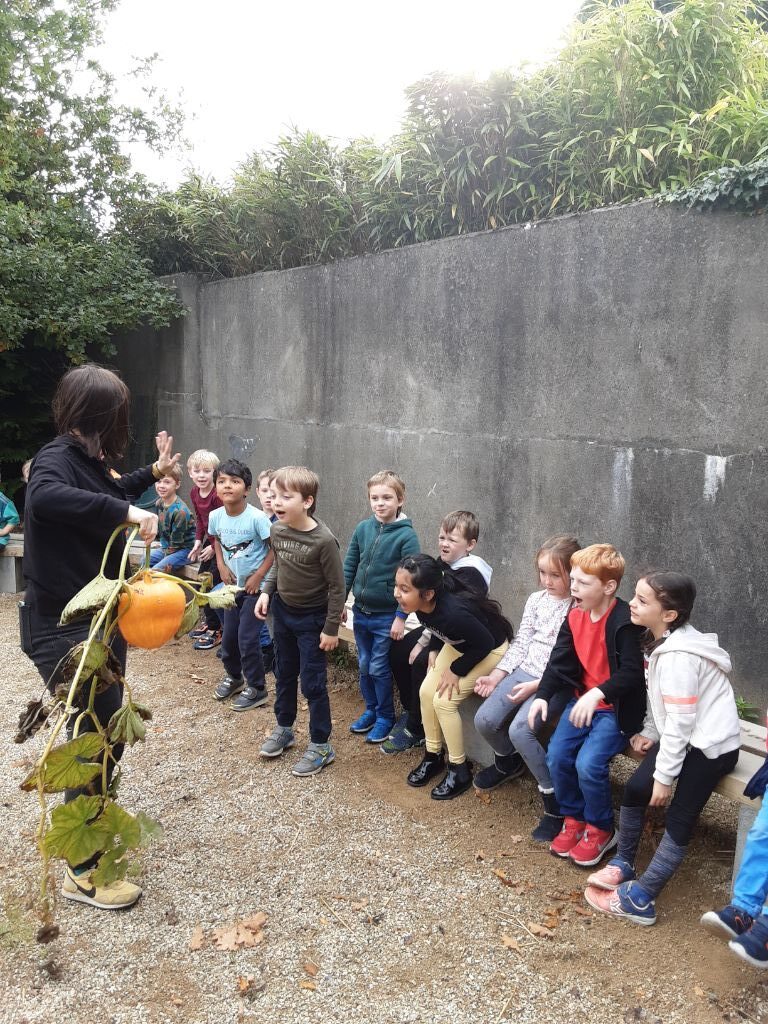 Learning about Hallow'een
Senior Infants have been learning all about Hallow'een. We learnt about the old Irish tradition of carving turnips and read the story The Gigantic Turnip. Anne helped us to harvest the pumpkins from our vegetable bed. Patricia helped us to examine the different shades of orange and create our own shades using red and yellow paint. Niamh was very impressed with all the amazing pumpkins the children painted! 
Junior Infants
Work from Junior Infants is in this section. Katie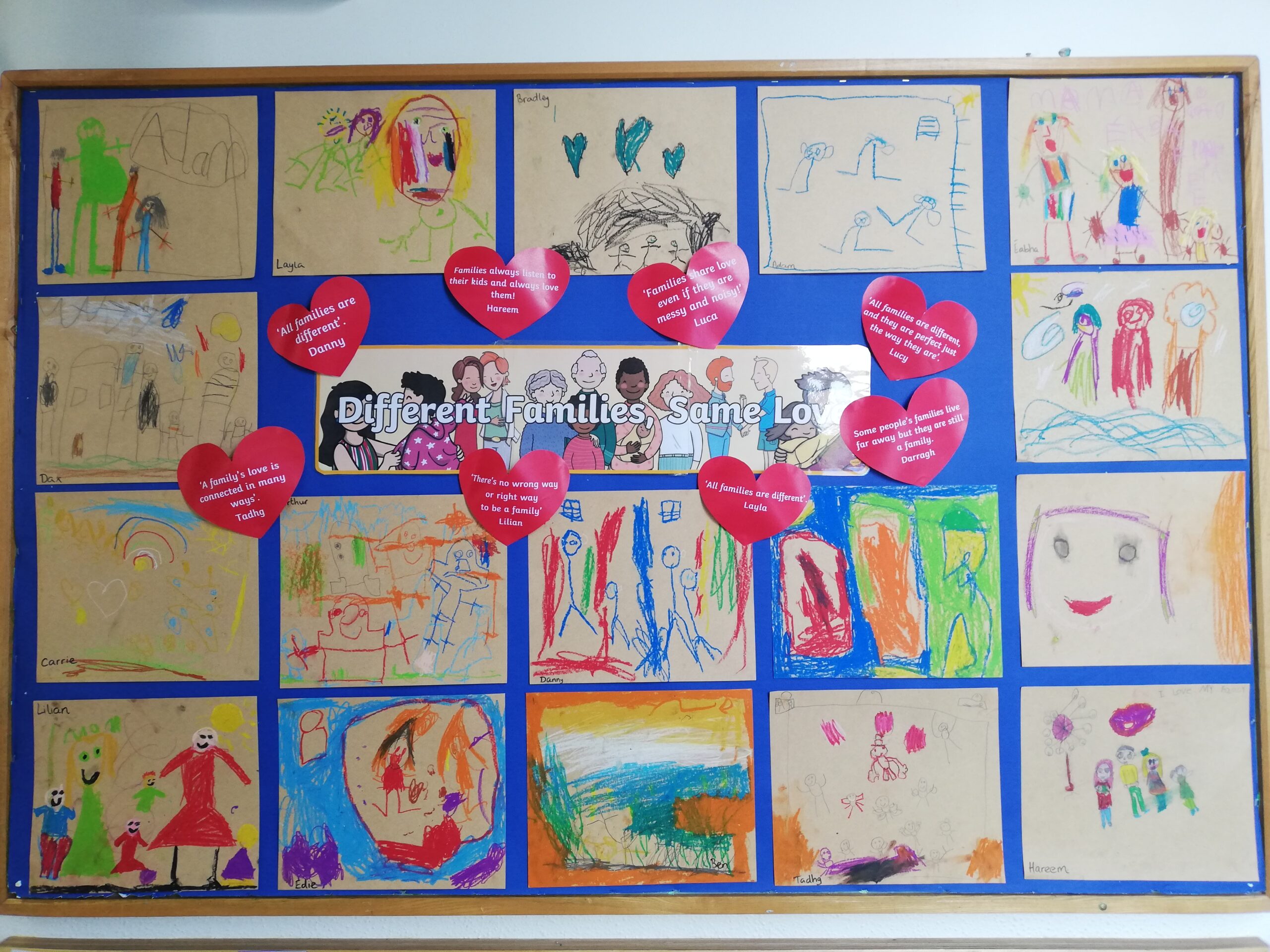 Junior Infants Different Families Same Love Art
Junior Infants explored the theme of Different Families Same Love for their art this week. They are an amazing creative bunch with great empathy towards each other and all kinds of families.  Katie
Junior Infants are really enjoying being back in school! They are learning so much every day, and are making us all very proud with the wonderful work they do and the kindness they show to each other!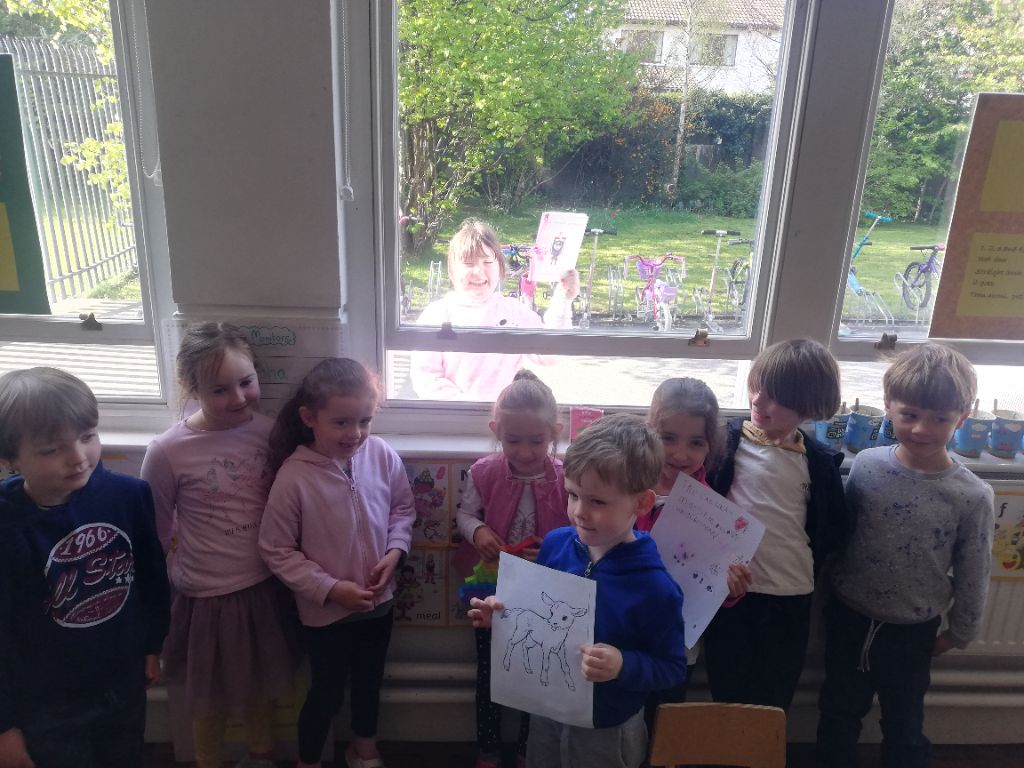 Author Visit!
Junior Infants love books and reading, and were delighted to get to read one of the 4th Class Write a Book entries before the spring break. The book, 'The Kitten Mystery' was written by a very talented author in 4th class who very kindly came to our classroom window for an interview this morning! We are really looking forward to the sequel!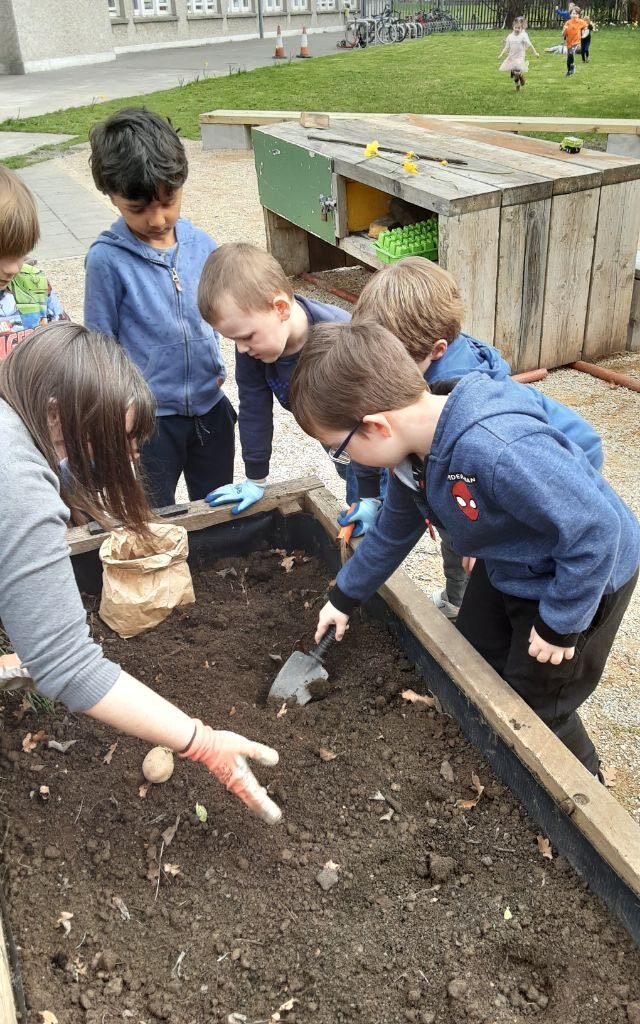 Planting Potatoes!
On Friday, Junior Infants were delighted to get their hands muddy when we went out to the garden to plant potatoes with Anne! We can't wait to watch them grow, and hope to harvest them in June!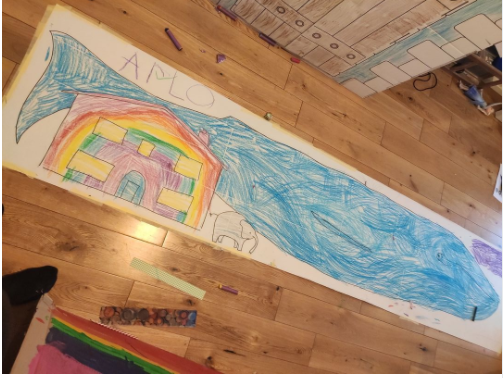 Arlo's Blue Whale
Hard to believe Arlo is only in Junior Infants with his amazing picture of a Blue Whale. Also included in the picture, for size comparison, is an elephant, a person and a house. Well done Arlo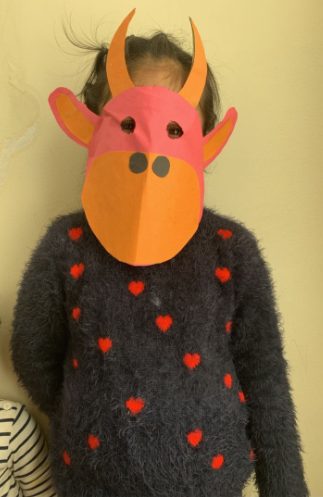 Chinese New Year
Chinese New Year is this Friday 12th February 2021. Some of our Junior Infants have been making some very cool masks! Hareem made this fabulous Ox mask as it is the year of the Ox.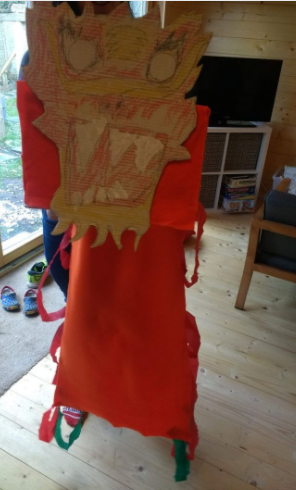 Chinese Art
Ruben made this very coll dragon to celebrate Chinese New Year. How cool is it?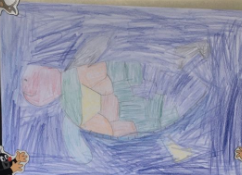 Sea Turtle
Kia I love your picture of a Sea Turtle, Well Done!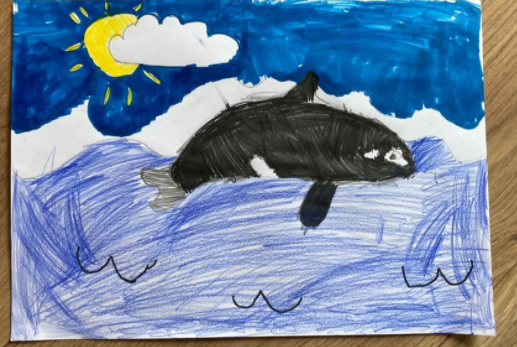 Whale
Lilian sent in a fantastic picture of a whale. I think it is an Orca Whale, very well executed Lilian.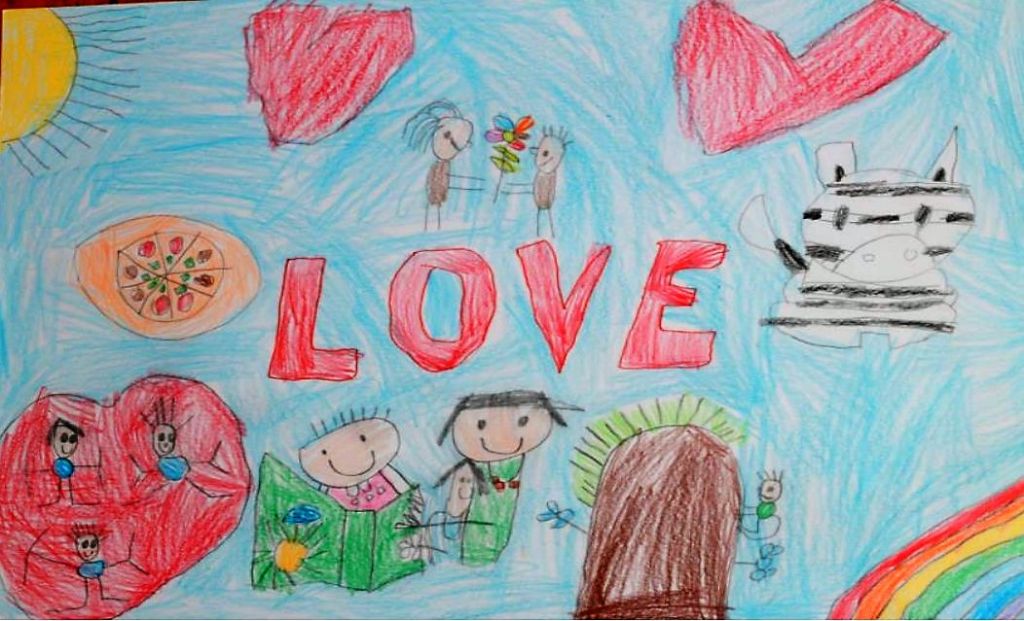 Love Poster
We had a hard time picking a winner for this month's core value, we got so many great love posters. But there had to be a winner and what is not to love about Antec's fabulous Love poster, well done Antec!