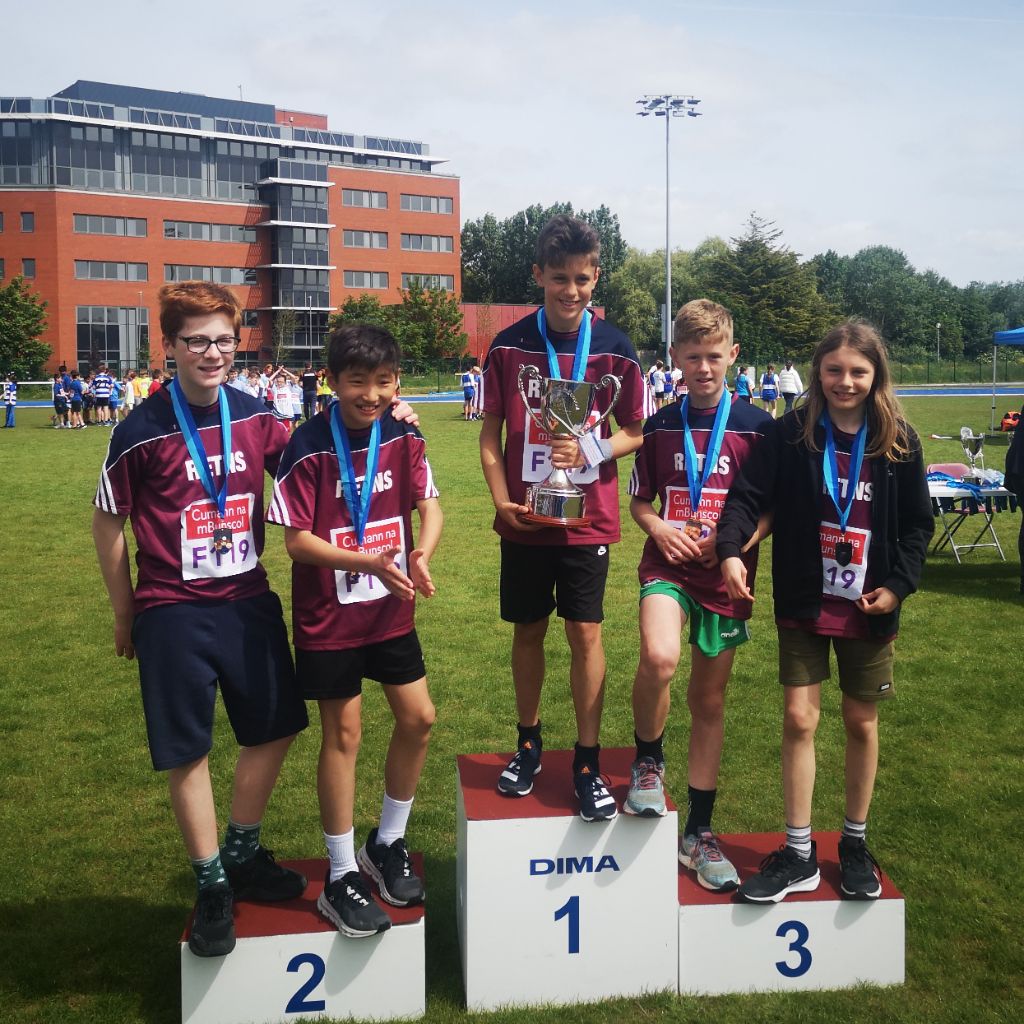 This Tuesday, May 23, 2023 Fifth and Sixth Class students had the privilege of representing our school in the Cumann na mBunscol Athletics held in UCD.  We participated in both the sprint and relay races.  I was on the relay team!
 When we got there, we put down our gear and stuck big stickers on our jerseys with our number and column.  It was 9.30 am and the sprints were due to start at 10 am.
 At about 9.50 all sprinters were told to check in for the first heat.  Four sprinters from our school ran up, Zac Zhang and Ruby Hudson from Fifth Class (under 12 boys and under 12 girls) and Samuel Garrigan and Maeve Sweeney from Sixth Class (under 14 boys and under 14 girls respectively).  Amazingly, one Fifth Class girl, Ruby Hudson, not only qualified for the final but then went on to win third place.  She was awarded a bronze medal.
 There were to be two heats for the Relay Race.  Only the first two teams in each heat would qualify for the final.
 I stepped my foot on the starting point on the track.  I would be the second receiver of the baton.  Before I knew it the gun had gone off and the race had begun.  Martin Dimitrov, who started with the baton, zoomed from third last to second to first and handed the baton to the first receiver Éamonn Kilroy so skillfully that it earned Éamonn immediate first place in his stage. 
 About seven seconds later, the baton was in my hands.  I noticed I had about four meters between me and second place but I took no chances and maintained my speed.  I then handed the baton to Zac Zhang who left everyone else in the dust, securing first place in the heat and a spot in the final! 
I was back on my spot for the final and my heart was racing. I tried to focus and manage my breathing. "Boom" the race was on. Martin got to third place instantly. He slipped the baton into Eamon's hand. We gained an advantage due to other teams dropping their batons. Eamon sprinted forward and slipped the baton into my hand. I ran forward and noticed there was a guy running right beside me. I focused on running and handed it to Zac who raced against another guy for first place. The finish was so close, we thought we came second but we had actually come first!! We got a large trophy (which will have to be given back next year) and medals and loads of pictures were taken of us. It was a great day and we are all very proud of our achievements. Tadhg 5th Class.