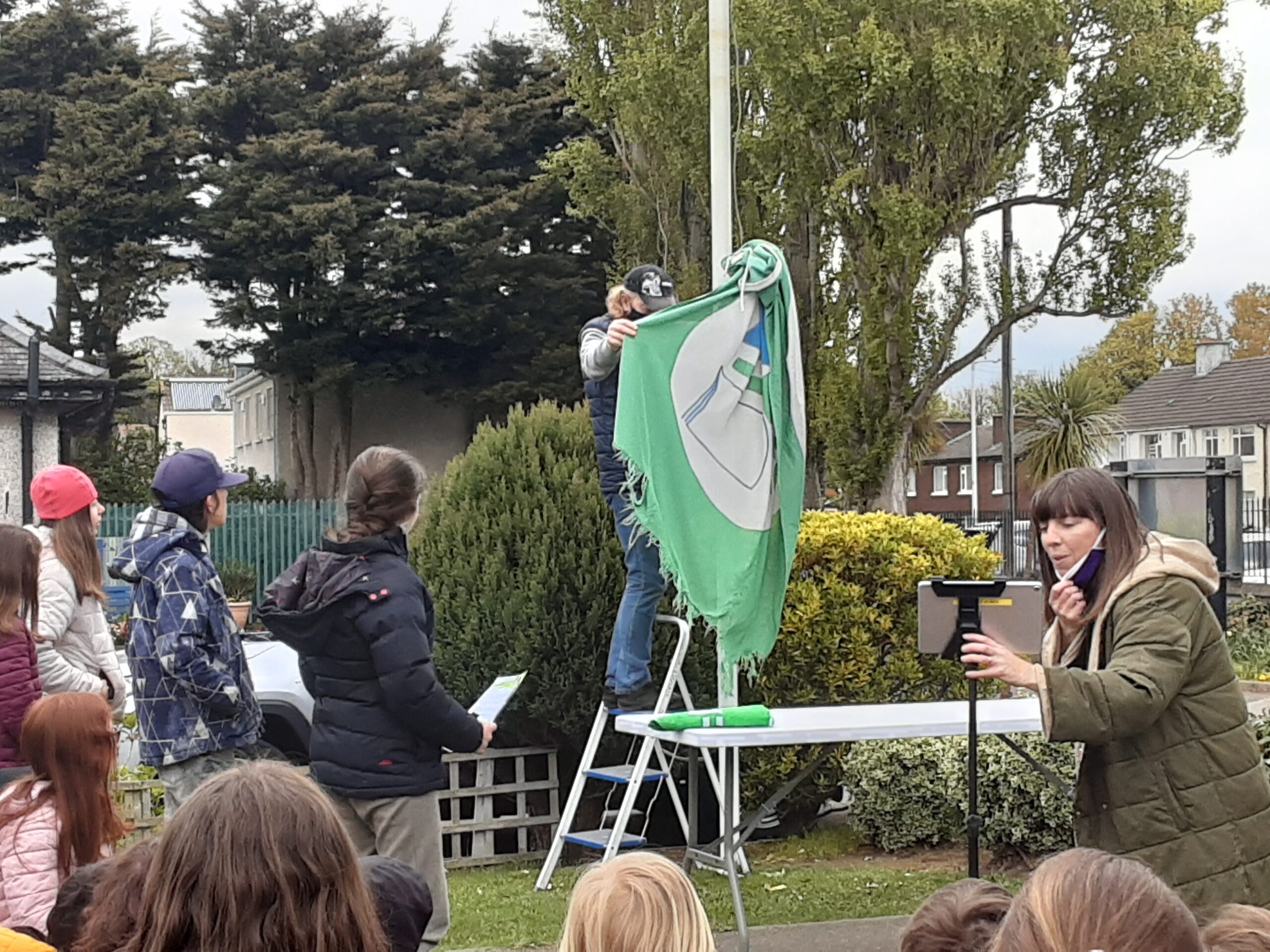 Green Flag Ceremony Friday 30th 2021
On Friday 30th April, we gathered to raise our 7th green flag and to celebrate the huge achievement this represents. It marks all our environmental work over the past 15 years. Our previous flags include Recycling, Water, Transport, Energy, Biodiversity, Global Citizenship and Waste. Here is the script of the event.
Lucy: Fáilte romhaibh go léir ar maidin. We welcome the whole school community to this very special Green Flag raising ceremony. We would like to welcome our special guests here today – Dennis our Number One Caretaker and Darren Hedden, father of Alannah, Bria and Cayla and who has joined us to play a fanfare on his trumpet. Thank you also to junior infants and 5th class for joining us outside this morning.
Hope: This is our 7th Green Flag. We have received this for our work on Global Citizenship and Energy (Inti holds the new flag). Previous flags we have received are for Recycling, Water, Energy, Travel, Biodiversity and Global Citizenship Waste.
Sian: During our surveys and studies on the theme of energy we learned that one of the biggest energy wastes in the world is food waste. It takes a lot of energy to grow food, package food, transport food and cook food. One third of the food we produce in is thrown in the bin and that really is such a huge waste of energy. We all can DO something about it by stopping food waste!
Izzy: Lots of small actions make a big difference so remember to eat all the lunch in your lunchbox, make apple crumble with leftover apples, make smoothies with left over fruits and soup with leftover veg. Zero waste food is yum and fun too!
Rebecca: If you remember back to March 2020, we were busy planning a Zero Waste Banquet for June 2020 in RETNS. We could not celebrate this event as we were all at home due to the coronavirus restrictions. Instead, we celebrated this virtually by sharing our Zero Waste Recipes online and they were shared on our website.
Lucy: Now Dennis will lower the old flag while Darren plays Retreat on his trumpet.
Lucy: Inti, Rebecca and Izzy are now folding the old flag. Freya and Sian will now unfold the fresh green flag.
Lucy: Now our special guest, Dennis, will raise our new Green flag. (Darren plays fanfare: Starwars theme tune as Dennis raises the flag)
Lucy: Thank you to everyone for attending this ceremony and for working to keep our school a green school. We look forward to continuing our work on these themes and working towards our current flag for Global Citizenship and the Marine Environment.
Hope : We end with our Green Code written by the super team of Lauren, Anna Mae, Polly.
Hope: Live on it together, Sian: Love it together, All: Protect it together.
Final fanfare by Darren