PARENTS, GUARDIANS and CARERS – Active School Flag would like
to say WELL DONE for everything that you are doing to support children
and young people with their education and with their wellbeing.
Normally, Active SCHOOL Week takes places during April. This year
that's not possible so we are reaching out to you to ask for your help with
the Active HOME Week challenge, starting on 27 April.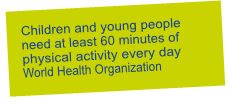 About the Challenge
Some of our children are bored!
The aim of this initiative is to motivate young people to keep active at home by trying out NEW activities, taking on CHALLENGES and having FUN with family activities. To complete the challenge  young people,  have to find four different ways of being active every day, making sure that this adds up to 60 minutes, or more, of physical activity. All members of the family are encouraged, #Together, to take on the challenge.
 Some of us need ideas to keep our children active!
To help with this we have created an IDEAS word cloud made up of some of the excellent ideas, resources and challenges currently being shared by local and national agencies. Many of these ideas can be viewed in action and in one place by visiting   @activeflag. There's something to suit all ages, abilities and interests, including indoor and outdoor options, with NEW ideas added daily. Remember if exercising outdoors, keep within 2 km from home, keeping 2 m distance from others.
If you would like to support the work that is happening in PE lessons we recommend that you look up the Professional Development Service for Teachers (PDST) Beyond the Classroom/Lasmuigh den Seomra Ranga series of PE home activity videos  @PDSTpe.
We'd love to see some completed challenge charts to find out about the activities and challenges that children and young people enjoyed the most.
 Twitter: @activeflag @healthyireland @HsehealthW