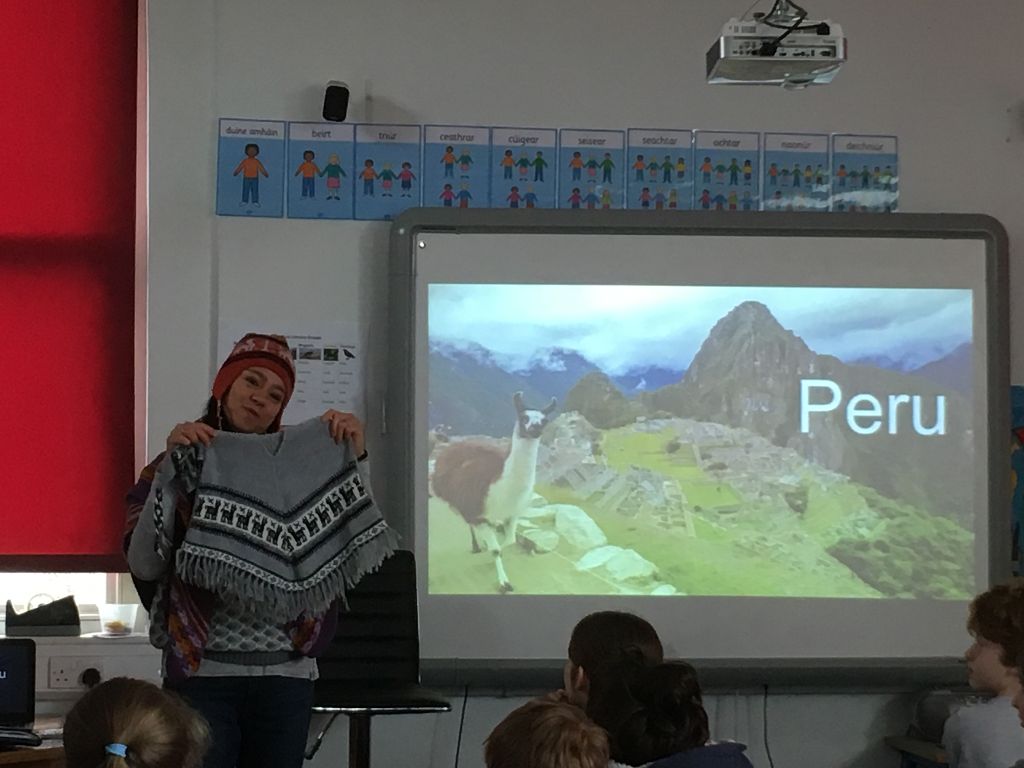 The History and Geography of Peru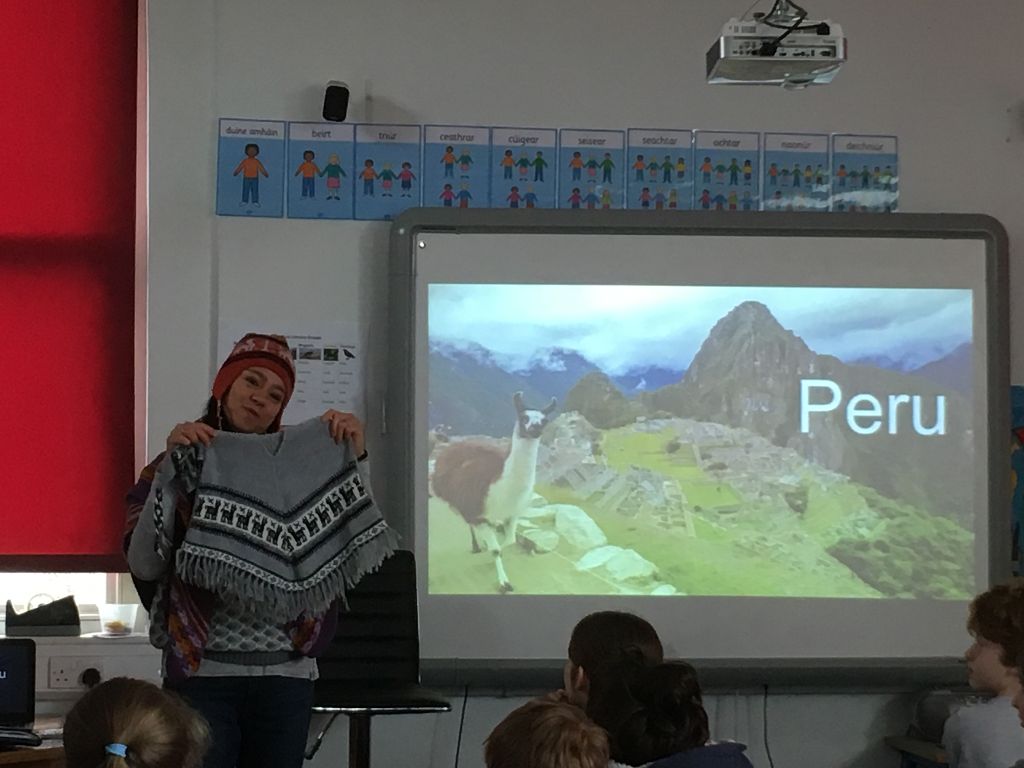 With a view to learning about a non-European country for SESE, Third Class have been focusing on Peru recently. They have learned about the location, mountains, rainforests, deserts, animals, birds, food and crops and much more. They were particularly lucky as they were able to hear all about the country from a native Peruvian. Diego's mum, Betty, visited the class on Wednesday March 21st and gave an amazing talk on Peru with a wonderful presentation on the IWB. She even brought in models of authentic indigenous costumes and samples of garments made with soft Alpaca wool. The children asked lots of questions! Sincere thanks to Betty for being so generous with her time and for sharing her knowledge.
Different Families, Same Love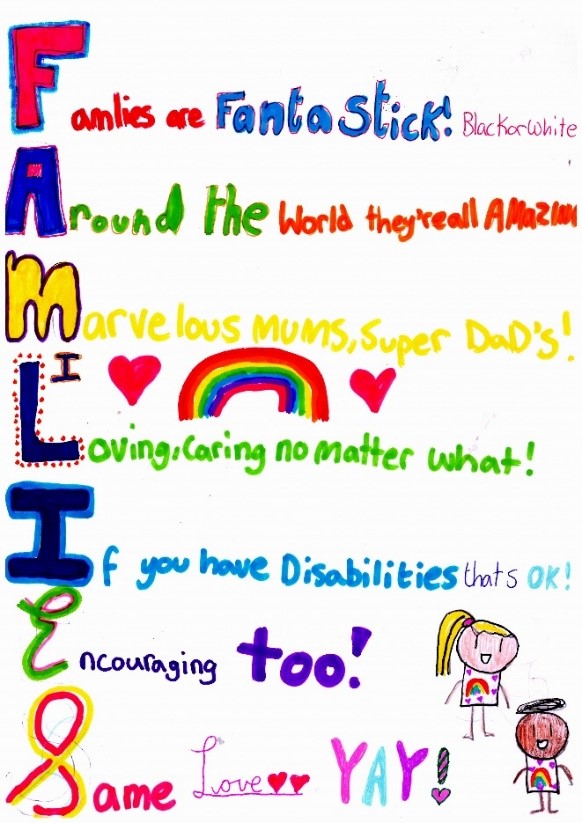 As part of the Learn Together programme Third Class have also been working recently on the theme of Different Families, Same Love. This is part of an initiative supported by the INTO to promote pluralism, tolerance and inclusiveness. The class has explored the theme using posters and other resources which highlight the vast range of different types of families. The children then wrote acrostic poems inspired by their discussions around the topic.
Art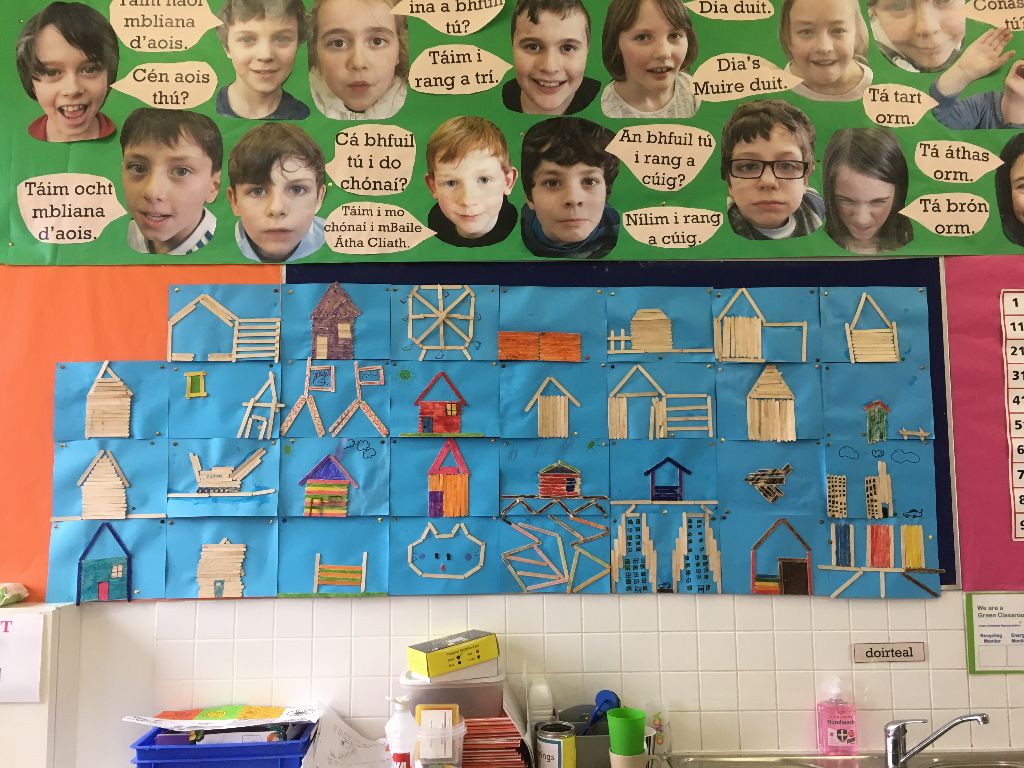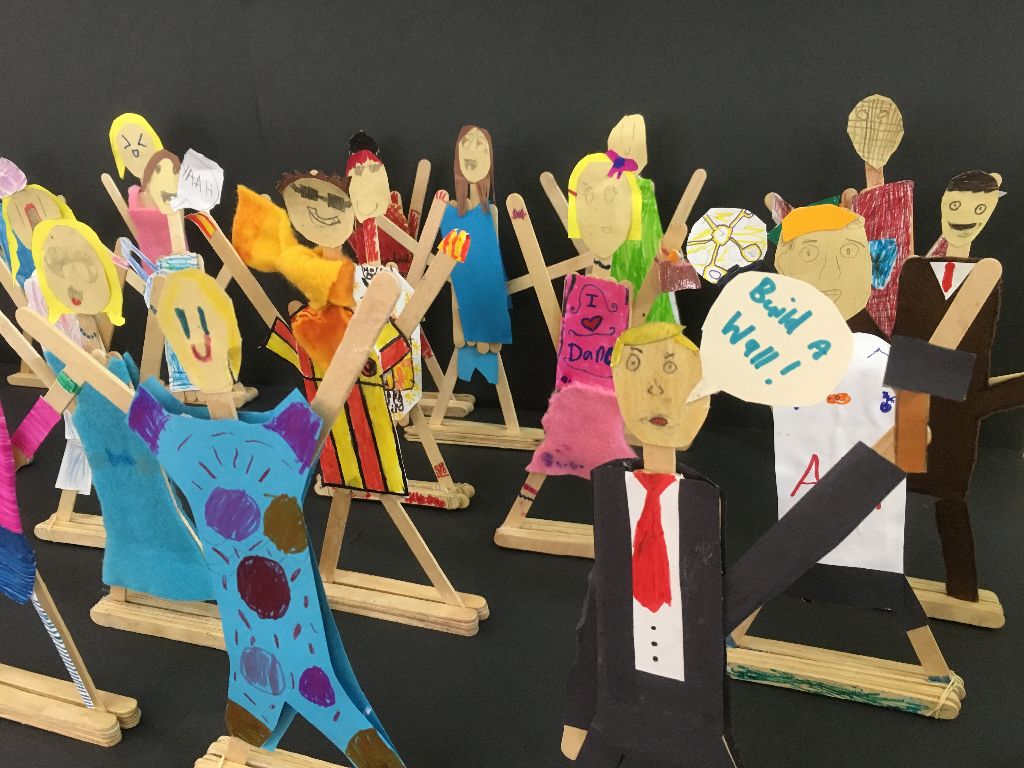 Construction has been the focus of art in Third Class over the last couple of weeks. First the children made pictures or stick art using lollipop sticks. The second week we went a stage further and began making 3D stick figures. Children then dressed and decorated their characters. They had lots of fun and also learned some tricks to ensure their figures stuck well and balanced properly.
Performance of Dance Art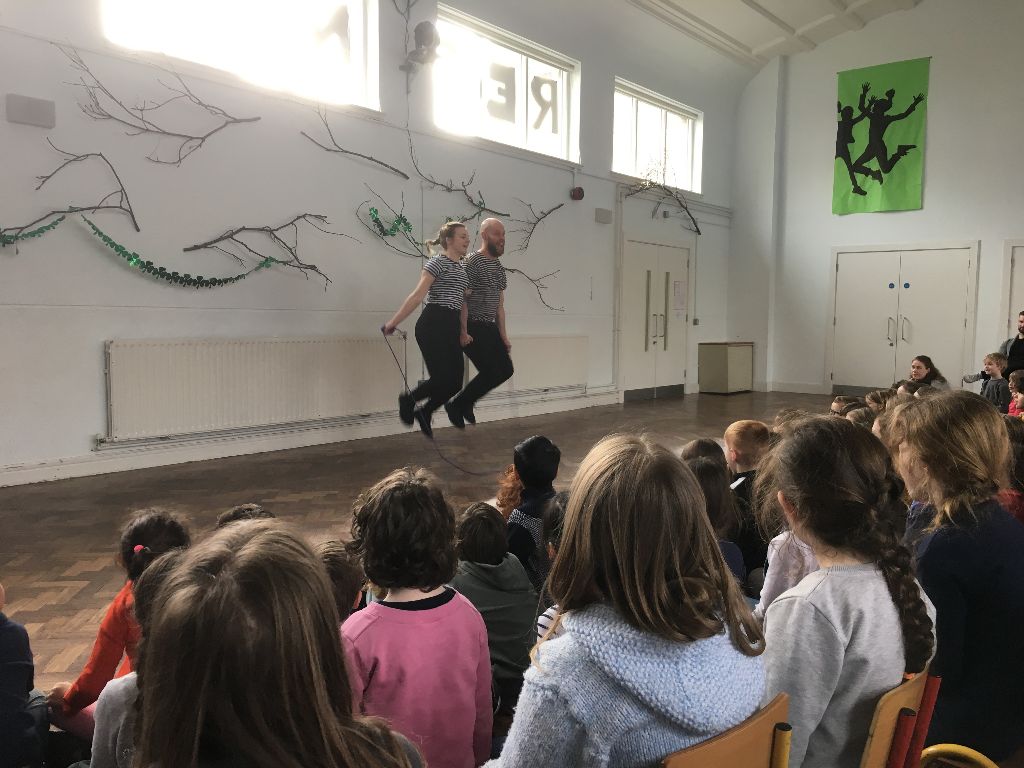 Along with all classes from Fourth Class down, Third Class watched a performance of child-focused dance/drama on Wednesday, March 21. They were fascinated by the movement, dance and acting skills of the two performers. The theme of the piece was child's play, so it really caught the attention of the audience and got the thumbs up from Third Class.
Comhrá as Gaeilge/Tráth na gCeist/Céilí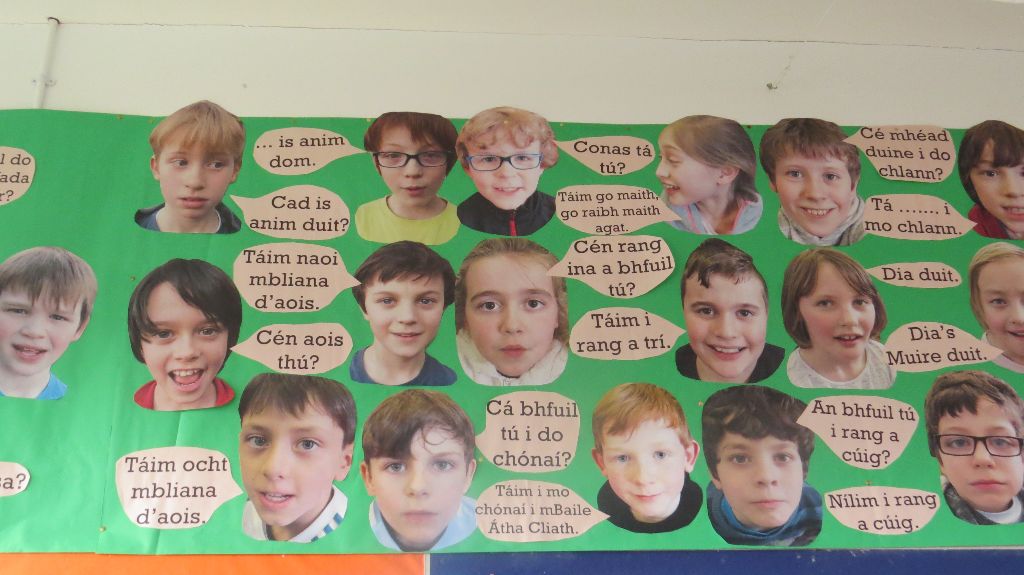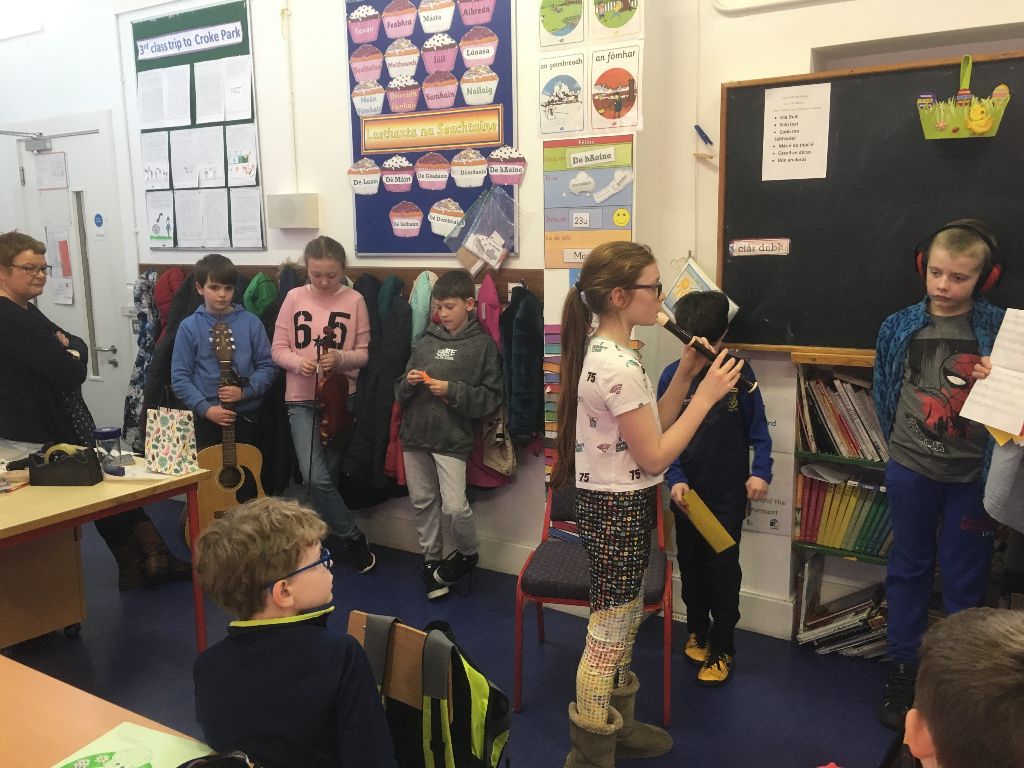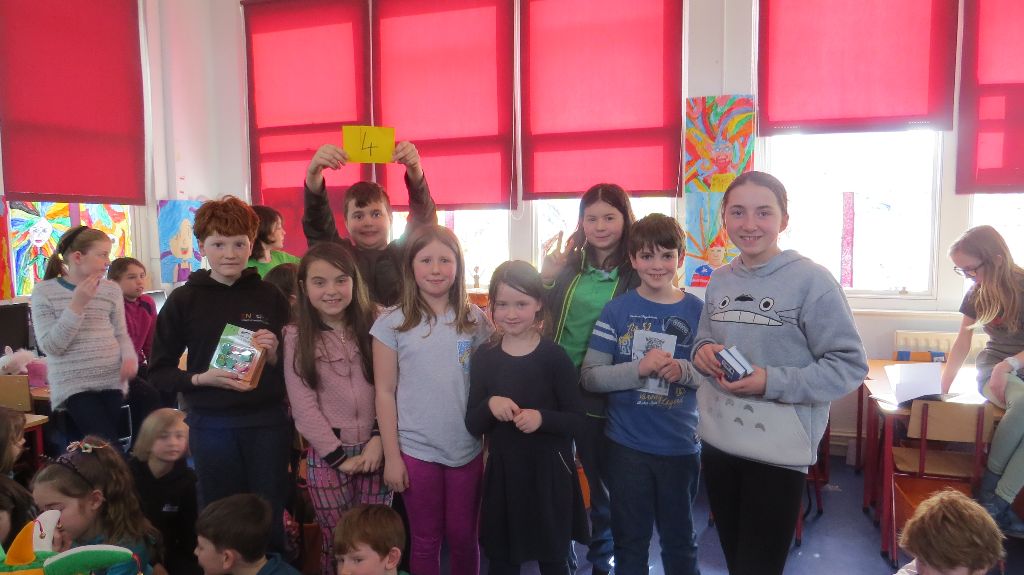 To mark Seachtain na Gaeilge Third Class joined with Junior Infants to enjoy a céilí. They danced Ionsaí na hInse (the Siege of Ennis) and then moved on to some free-style dancing to pop music "as Gaeilge". They even fitted in an Irish version of the Macarena! A Tráth na gCeist was held for Third and Fourth Class. Ten joint teams were put together to compete against one another. Questions were wide-ranging and tested their general knowledge as well as their Gaeilge. The top two teams won a "duais beag". To further inspire conversational Irish in the classroom, Third Class now has a display of children's photographs and useful everyday Irish expressions. They are well worth coming to see! Children also brought in musical instruments and treated the senior classes to a bit of a session! Well done all the performers but especially Max from 3rd class who played us a wonderful piece on the guitar.
Arcade Day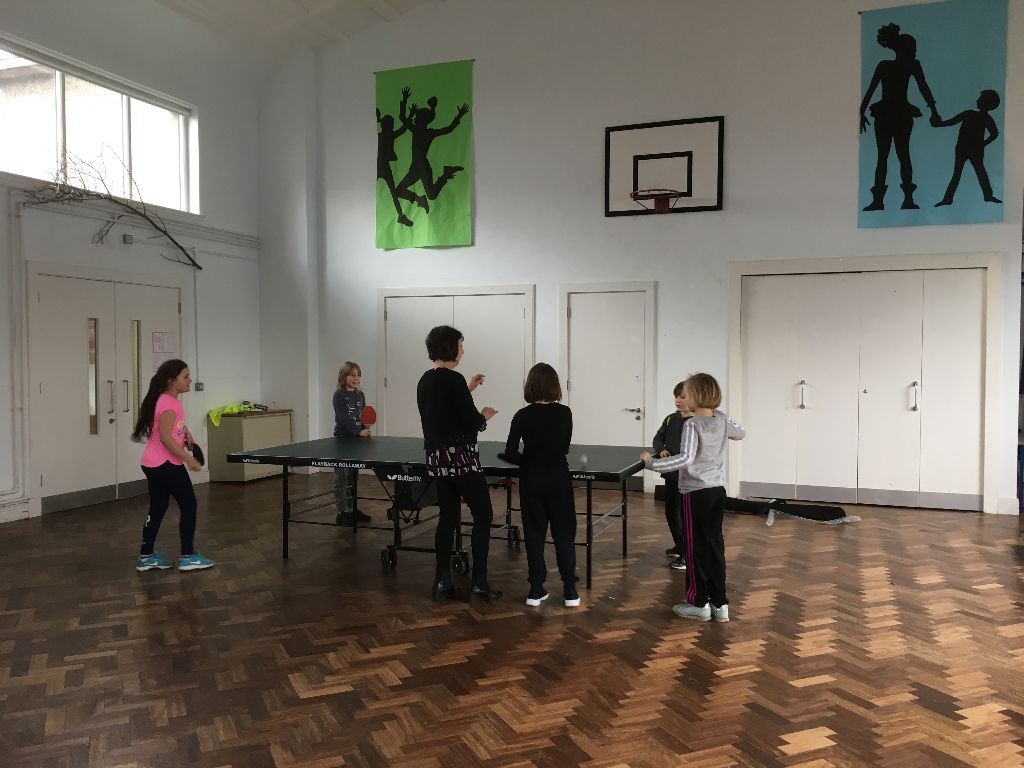 The ICT Committee organised a great Arcade Day to fundraise for new tablets etc. Third Class really enjoyed the session where they had a ten minute slot per group on laptops, tablets and Table Tennis and Pool. Lots of fun was had by all. Many thanks to the ICT Committee for organising this event.