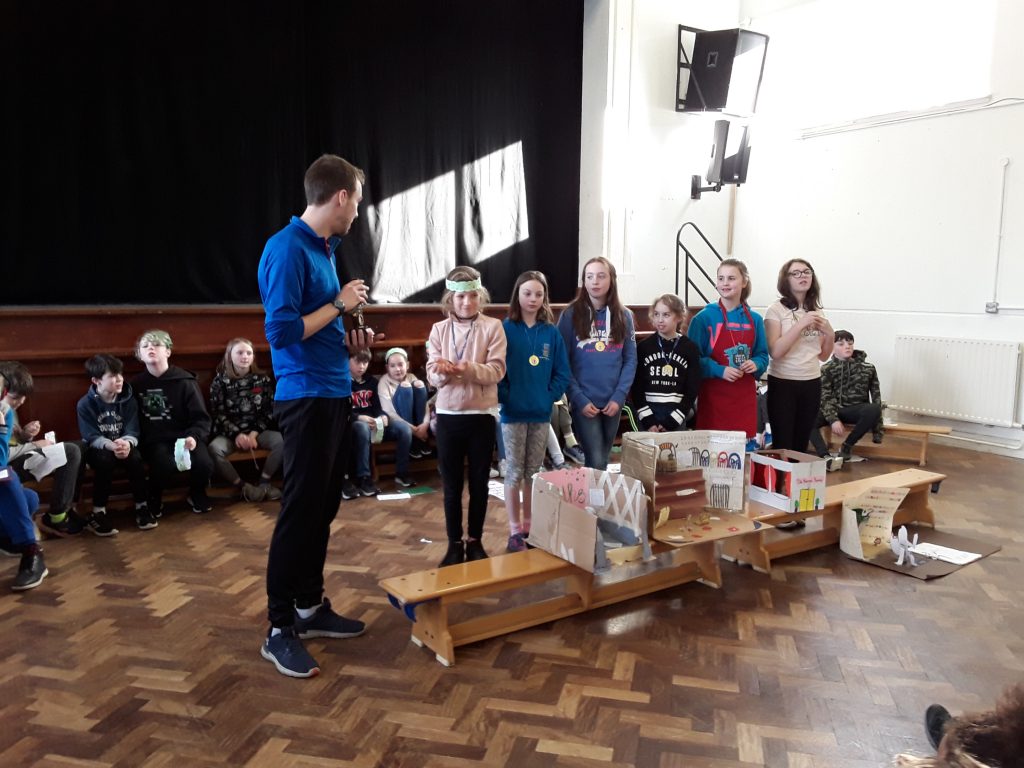 This year Darren organised an indoor soccer tournament for boys and girls in 5th and 6th class.
In both there were four teams. In the boys the teams were countries. They were Germany, France, Ireland and England. The girls were teams from the Premier League. They were Liverpool, Chelsea, Man City and Man United. The tournament went on for about a month so everyone played five matches including the semi-finals, 3rd and 4th place playoff and the final. The finals were played in the yard.
In the girls 3rd and 4th place playoff it was Liverpool vs Chelsea. The final score was 2-2 so it went to penalties and Neva scored the winning one for Chelsea. In the boys 3rd and 4th place playoff it was 2-1 to England against France. Emil scored the winning goal. In the girls final it was Man City vs Man United. The final score was 0-0 and it was won by Man City on penalties and Rebecca scored the winner. In the boys final it was Ireland vs Germany and Germany won 1-0. Noah scored the winner with 30 seconds to go.
Girls Top Scorers:
6 – Eve – 6th Class
5 – Sinead – 5th Class
4 – Molly – 6th Class
2 – Ruby – 6th Class
1 – Kaitlyn, Alice and Tori – all from 6th Class, Crea Rose and Keelin – both from 5th Class.
Boys Top Scorers:
10 – Emil – 5th Class
9 – Bobby – 6th Class
8 – Noah – 5th Class
6 – Ruairi – 5th Class and Mark – 6th Class
3 – Saree – 6th Class and Aidan – 5th Class
1 – Liam – 5th Class and Jamie – 6th Class
Girl's teams:
Liverpool: Eve, Maia, Daisy, Crea Abbie
Chelsea: Sinead, Neva, Molly, Grainne, Lily
Man City: Ruby, Rebecca, Lucy L, Alannah, Annie, Kaitlyn
Man United: Tori, Alice, Lucy B, Tuva, Jodie, Keelan
Boy's teams:
France: Mark, Ruairi, Charlie, Alex Mc
Ireland: Bobby, Aidan, Alfie, Saul
Germany: Saree. Ryan, Noah, Liam
England: Jamie, Emil, Alex K, Bill