KidsBlog is back!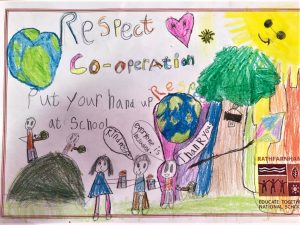 6th class has recently has had fun with the Legos. We have built bar charts of what peoples favorite take away food is, surprisingly only two people had voted for McDonalds. After that we decided to do a Mannequin Challenge. It is on the school website.
6th class is learning about Australia and the Aborigines and we have done some aboriginal dot art!
Senior Infants have been baking banana bread this week. The smell of baking around the school was delicious.
Well done to Luiza in 1st class who won her class poster competition on respect, our value of the month.
Guidelines for costumes:
Children's costumes should be simple with no props/ cumbersome parts
Costumes should be comfortable and easy to move in with no long, trailing parts.
Children should wear comfortable shoes such as runners
No guns or sharp weapons
Children may bring their own wipes to remove make-up
If you have anything else to add to the KidsBlog send it to Riia Kiernan (Editor) 6th Class. Thank You.