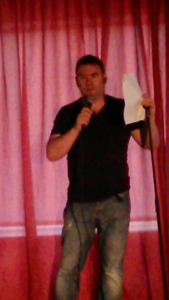 Congratulations to the winners of the joke competition. Ten student's jokes were selected by the parents and the MC (Tom "Bear" O'Mahoney) chose three to read out at the comedy night. The jokes are below and the winning three by Tommy, Doireann and Jamie are highlighted in red. We all enjoyed listening to their jokes at Assembly. We hope you enjoy reading all these fabulous jokes. Here's a link to a padlet with the jokes: https://goo.gl/4242j1
WALT HOBAN 4TH CLASS
Q. What do you call a fake noodle?
A. An impasta!
ANNABEL NEEDHAM 3RD CLASS
Q. What do you call a three legged donkey?
A. A wonkey!
KAITLYN ADMIRAND 4th CLASS
Q. Why did the children cross the playground?
A. To get to the other slide!
ABBIE O'NEILL 4TH CLASS
Q. Why did the pirate walk the plank?
A. Because he didn't have a dog!
AMY ROCHE McCREA 5TH CLASS
Breadstick Senior and Breadstick Junior are talking. Breadstick Junior comes and tells a joke. When he's gone, Breadstick Senior says, "He's a cracker!"
LORCAN – JUNIOR INFANTS
Q. What do you call cheese that doesn't belong to you?
A. Nacho cheese.
MARTHA – JUNIOR INFANTS
Knock knock
Who's there?
Boo.
Boo who?
Why are you crying?
TOMMY – JUNIOR INFANTS
Q. Why was the small wafer sad?
A. Because his mum had been a wafer so long.
DOIREANN 3RD CLASS
Q. What's wrong with a party in space?
A. There's no atmosphere.
JAMIE 4TH CLASS
Police arrested two kids yesterday. One was drinking battery acid and the other was eating fireworks.
They charged one and let the other one off.
CAOIMHE COMERFORD 5TH CLASS
"Please read before saying out loud my joke"
Person 1: Knock knock
Person 2: Who's there?
Person 1: Doctor
Person 2: Doctor who?
Person 1: You forgot the theme music!
"PS – Don't actually say 'person 1' or 'person 2'" !
LUCY B – 4TH CLASS
Q. Why should you never play in the jungle?
A. Because there are too many cheetahs!
SAGA – 5th CLASS
Did you hear about the lion that escaped from Dublin Zoo?
He tried to eat the monkeys but they climbed up the banana trees.
He then tried to eat the penguins but he couldn't get the wrappers off them.
BILLY – 6TH CLASS
Do you want to hear a construction joke?
Sorry – I'm still working on it.
NIAMH BYRNE – 2ND CLASS
Q. Where did Napoleon keep his armies?
A. Up his sleevies.
ALEX K – 3RD CLASS
There were three hungry football fans on a desert island when they found a pig, but they couldn't decide how to share it.
The first guy said, "I support West Ham so I'll have the ham".
The second guy said, "I support Liverpool so I'll eat the liver".
The third guy said, "I support Arsenal… but I'm not feeling very hungry".
ALEX K – 3RD CLASS
A man went to the doctor… "I have a strawberry stuck in my bum"
Doctor says, "You'll need some cream for that."
ALEX K – 3RD CLASS
Q. What do you call a dinosaur with one eye?
A. A jathinkhesawrus.
EVE LESLIE 6TH CLASS
I was reading a book on anti-gravity – I found it hard to put down.
HANS VAN GELDEREN 6TH CLASS
Q. What do you get when you mix a vampire and a snowman?
A. Frostbite!
EVE LESLIE 6TH CLASS
Q. Did you hear about the man who stole a calendar?
A. He got 12 months.
EVE LESLIE 6TH CLASS
Q. Why do seagulls fly over the sea?
A. Because if they flew over a bay, they would be bagels.