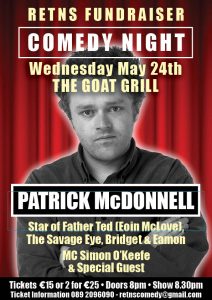 The parents have come up with a brilliant idea which is that the kids can provide some entertainment for the comedy night which I'm sure you have heard about because of the posters and the tickets being sold when you come in.
The ICT committee is assisting with the joke competition for the RETNS comedy night. The top three jokes will be read out by Patrick McDonnell on the night. The top ten jokes will be read out at assembly. All your jokes will be put on a padlet for the kids blog.
If you want to submit a joke please send/give it to your teacher or post it in a comment section for this post.
We hope you have fun with this joke competition and that people really enjoy the jokes.
Jokes do not necessarily have to be original so if you have a favourite joke by all means go ahead and submit it!