eTwinning in RETNS
On Tuesday, December 5th, we had a visit from the eTwinning coordinator at Léargas, Liliana O'Reilly, and her colleague Anna D'Arcy. Léargas is the National Support Service for eTwinning in Ireland.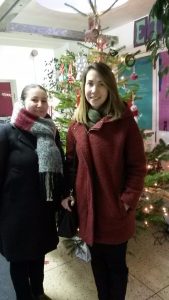 Initially Liliana made contact with the school to extend her congratulations on the work our school is already doing on the eTwinning platform and to suggest that she visit the school to discuss the impact our school's work on eTwinning has had on our staff professional development, our school and our students and to see how they could support us in expanding our work on eTwinning projects.
Liliana visited Senior Infants, First class, Third and Fourth classes, which had been involved in recent eTwinning projects, and listened to the children explain about their involvement in eTwinning and what they learned from the projects. She also gave a very informative staff presentation on how teachers can start or continue their involvement in eTwinning, and on the support available from Léargas.
What is eTwinning?
eTwinning is a free and secure online platform linking a community of more than 500,000 teachers across Europe. It allows teachers working in Europe to communicate, collaborate, develop projects, share and be part of a large learning community. It supports primary and post primary schools to find partners and work on joint projects in any curricular area, using Information and Communication Technology (ICT). eTwinning is funded by the European Union and administered in participating countries by a National Support Service (NSS).
There are many benefits for staff in using eTwinning. It gives direct contact with education professionals in other European countries, develops awareness of teaching approaches used in other countries and allows sharing of expertise and experience. For children, eTwinning provides increased motivation, as they have an audience for their work in a school in another country, it enhances key skills, including ICT use, it provides greater cultural awareness, encourages self-directed learning and develops problem-solving and critical thinking skills in relation to subject content.
Our involvement in eTwinning began during our Blue Star programme last year, when we worked initially on projects with schools in Poland and Italy, and on further projects with schools in Sicily and Finland. eTwinning proved very successful with staff and children, who were able to explain their involvement in the projects to our visitors from Léargas.
One of our projects was when RETNS initiated the Leaf Hunt Project with schools in Sicily and Finland.
Children from a school in each of the three countries took photos of trees around their school neighbourhoods and made PowerPoint presentations for each other. The information swap between the three schools resulted in very interesting projects.
We hope to continue our eTwinning involvement during the coming year as we believe that there are many benefits from this type of learning for everyone involved.