New Term Update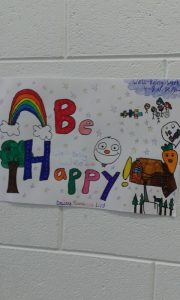 Wellbeing Week 2017
Welcome back to all children and families for the 2017/2018 school year, and in particular we welcome our new class of Junior Infants. Hopefully they will all settle into the routines of RETNS very quickly. A very special welcome also to our new staff and we wish all in our school community a very successful and enjoyable year ahead.
We start off the term as always with our Wellbeing Week in which the children look at what will help make this year a happy year for them and how they can help others. Pupils' wellbeing is very important to us in RETNS and we are always looking at ways in which we can improve wellbeing, whether through encouraging increased activity, healthy eating choices, positive attitudes and culture or working with the children in new ways to help promote a happy school for all. Through our assemblies, our in-class work in SPHE and our ethical programme, Learn Together, and through our many student committees, we listen to the pupils' voices, we actively foster empathy among our pupils, develop leadership and teamwork skills and encourage creativity. We aim to actively foster and create a safe, supportive environment in which all of our students feel cherished, stimulated and proud to be the best version of themselves. All of our work is towards equipping our pupils with the skills and resilience they need to make the most of learning and school, to be good citizens and to become changemakers for good. We encourage children to be kind, to look out for each other, to be role models for others and to ensure that bullying never rears its head in our school. If potential bullying situations arise pupils are encouraged to speak up and use the power of the school anti-bullying ambassadors team to nip any potential bullying in the bud. Each child is encouraged to be part of the solution of creating a school where all will feel safe, happy and cherished for the unique individual that they are.
Last year 4th class read an inspirational quote to the school each week. This one emerged as a favourite: "If you think you are too small to make a difference, you haven't spent the night with a mosquito" Dalai Lama.
An apt quotation for a new term.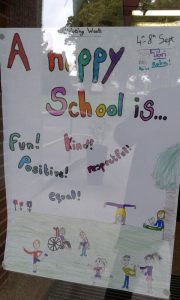 Story Sacks
Last term a number of children worked with their parents and grandparetns to produce some beautiful stroy sacks for use in the school. The results were amazing, extremely creative and each one very individual. These will be stored in the specially made 'sacks' to use during special story times in the junior classes. A huge amount of planning and work went into the making and filling of the sacks and we are very grateful for all the time and effort spent by those who took part in the project. While acknowledging that the project was time-consuming, everyone was delighted with the outcome and those involved thoroughly enjoyed the process.
Drone Footage
After our very successful Blue Star programme last year we were delighted to hear that the Blue Star team would like to use our drone footage as part of their promotional material for this year's programme. Check it out here!