EU Ambassador visits RETNS
Blue Star Programme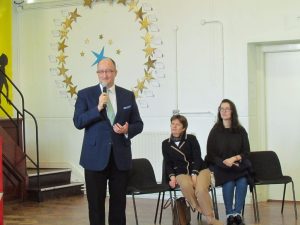 The 60th Anniversary of the Treaty of Rome was marked in RETNS on Friday 24 March by a visit by the E.U. Ambassador, Mr. David Daly, his wife Aideen and their daughter Ceola. Mr. Daly is presently E.U. representative for South East Asia, having previously been E.U. Ambassador to Sri Lanka and the Maldives. Prior to this he represented the E.U. in Australia.
Mr. Daly was initially greeted by a song "as Gaeilge" from the school choir. He then heard members of the Student Council make a presentation on the history of the E.U. Mr. Daly then spoke about his role as EU ambassador and took questions from children from all classes. His answers covered topics ranging from the most important thing he does in his job (thinking!) to the things he most enjoys (working with people from all cultures) to his one time (continuing!) ambition to play for Sligo Rovers!
Ambassador Daly's wife Aideen and his daughter Ceola spoke to the children about what life was like moving from country to country every four years, the many good points as well as some difficulties, ie. missing family events at home etc. Aideen also spoke in Irish to the gathering and referred to her love of Irish and how useful it is at times to be able to speak a language that not many other people worldwide recognise!
The assembly then watched a sample of videos created by Sixth Class students on "Inspirational Europeans". Ambassador Daly made particular reference to the role of the EU in ensuring that a situation such as that experienced by Anne Frank, one of those inspirational Europeans, would never happen again.
The visit continued with a tour of some of the school's EU displays and a brief visit to First Class, where Mrs. Daly read a Hungarian story to the children, who have recently been learning all about Hungary.
The visit concluded with refreshments, including EU star cookies (!) in the staffroom.
It was a great day at RETNS. Photos attached.
by Aileen Cronin
VISIT BY EAMON RYAN T.D.
On Friday, March 10th, we had a visit from Eamon Ryan, T.D., also as part of our Blue Star programme. Our assembly began with the Student Council making a presentation with facts about the EU. Deputy Ryan then addressed the whole school, speaking about the EU, why it was set up, how it has evolved and its benefits for Ireland. He then took questions from each class group and the Green Schools' Committee. The questions covered a range of topics from life as a T.D. to his thoughts and opinions on more complex issues such as climate change and Brexit. Deputy Ryan then posed for photos in our School Hall and Wildlife Garden. To finish the visit we sang our school song "Everyone Belongs", the theme of which corresponds to the EU motto "United in Diversity ".