Samhain – A Celebration
Samhain – A Celebration
Billy
Failte romhaibh go dtí an ceiliúradh seo.
We are celebrating the ancient Irish feast of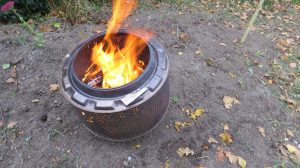 Samhain. Our Celtic ancestors celebrated the end of the year with dressing up, lighting bonfires and dancing to music. They were also celebrating Harvest time and a time of fullness and plenty .
The people of ancient times split the year in half and Samhain was the end of the light half and the start of darkness.
We are keeping the ancient tradition today by celebrating the fading of the light with fire and dance.  In the Wildlife garden, we  have also placed our new sun dial donated by last year's 6th class and the sculpture of a bird house donated by  Ian Pollock (Luka's dad).
Jessie:The bird house and sundial are symbols of our closeness to nature. Just like our ancient ancestors we are dependent on Nature. We also celebrate Samhain  by looking  at some of the fruit and nuts from our garden -apples, nuts and berries. These will sustain birds and animals during the Winter months. 
(Anne B. holds up fruit and nuts)
Go raibh maith agat, Anne. Now we will have a short dance from Saga, Crea, Annabel and Grainne.
(Dance -Mary C. and Orlaith bring on Group from 3rd class and Saga)
Jessie:The ceremony will finish with a poem by 2nd class to celebrate the modern tradition of Halloween. Go raibh maith agaibh go léir.
Bíodh Samhain Shóna agaibh!!
(Poem By 2nd Class-Brian and Petrina)