Sports
We were delighted to have a winning team in Santry Sports this year – our third class girls' relay team won gold medals for themselves and a trophy for the school for coming first in the Under-10 Relay. Congratulations to Ruby, Eve, Molly and Lily on their great achievement.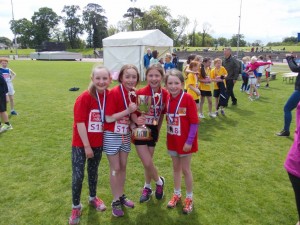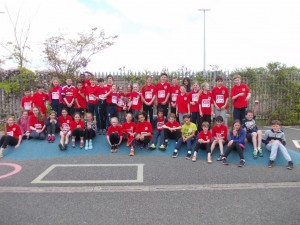 Global Awareness
Earlier in the year our sixth class entered some projects into the Our World Irish Aid Awards and three of these projects went forward to the Dublin Regional Finals. Each of the groups focused on a different aspect of the Global Goals theme, under the title 'Our World, Our Future'. The winning entries were the Whole Class entry – which was a music video with words written by Calum O'Riordan, an information video by Maryam, Hannah and Sara on the Global Goals, and an information poster by Mallaidh, Nada, Michelle, Jennifer and Niamh on the work of Irish Aid itself in different countries around the globe. Three students represented the class at the award ceremony in Department of Education, Marlboro Street, on May 17th, when they received a plaque for excellence in global awareness.
See their class video again on our website under Older Entries-Sixth Class- 5 th October 2015, or follow the link below. http://retns.ie/page/3/
Green Schools
Representatives from our Green Schools Committee travelled to the Tidy Schools Competition Awards Ceremony in Dún Laoghaire and came back with our third award of the term Best School with Little or no Green Space. The judges awarded marks for our window boxes, potato growing in the side garden, our outdoor classroom and pond, and they remarked on the 'nice trees at the rear of the school.' Also noted was the willow wigwam, the Astro Turf area and 'plenty of nice paintings on the shed area to add a splash of colour'.
There was little or no litter to be seen in our school grounds and an absence of graffiti, while the children gained top marks for their awareness of litter and biodiversity, with the judges remarking,
There are plenty of excellent examples of student involvement with litter and waste management and biodiversity action.
We are very proud of our green schools work this year and delighted to receive this award with its prize of €100.