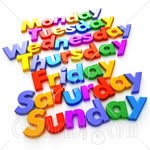 Hi my name is Lee in 6th class and I want to tell you all about what we do during the week.
On Monday we used to have Tag Rugby but we don't any more.
On Tuesday we do handball, with a really nice coach called Shamsi.
On Wednesday we have choir. We have been practicing a lot for the National Children's Choir (aka NCC). There is 15 songs, including Don't Stop Me Now, Fionnghuala and Moon River.
On Thursday other classes go swimming. We had swimming but it ended after about 10 or 11 weeks. On the first week of swimming they said the bus was coming and nearly here but the bus never came due to traffic then we went back to class to do work.
On Friday we have a thing called Golden time. Golden time is where we have half an hour to play whatever we want I personally I love golden time I think it is a really nice thing especially at the end of a Friday.
And that is what 6th Class in R.E.T.N.S does in a week (besides the usual English, Irish, Maths etc) I hope you enjoyed!!!